James Anderson: Just Bowl the Ball as Fast as you Can
England's record wicket-taker on the most excellent people in cricket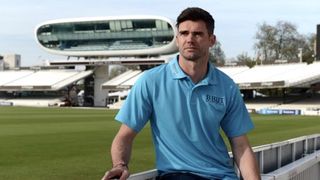 (Image credit: Unknown)
Who taught you most about cricket?
When I first started out at Lancashire, I played with Neil Fairbrother. He just told me: "Don't worry about anything except bowling the ball as fast as you can." That took a lot of the pressure away, because I'd been obsessing about making each delivery perfect for line and length and movement. Even nowadays, I try to keep my action as simple as possible. It's like a golf swing: the more you think about each little element, the worse it gets, so when I'm running in, my mind is almost blank. I don't even really look where I'm bowling, I just try to get the right "feel" off my fingers as I let the ball go.
RECOMMENDED: Win a Day at the Cricket
Who helped you most when you were young?
I had two good PE teachers at school, Mr Preedy and Mr Ennis. We didn't have good facilities, but they made the best of a bad situation, and they kept up my love for sport when I might have been distracted by other things. I was one of the smallest kids in my year, but when I was 15, I grew about a foot in 18 months and started bowling a lot quicker. After that, I was a bit like the guy in The Great Escape, always with a ball in my hand. Even in bed, I'd be throwing it against the wall and catching it on the rebound.
Who was your sporting hero?
I loved Boris Becker, the energy he had, but I didn't have any posters on the wall. Oh, apart from one of Ian Wright. I went through a regrettable Arsenal phase when my local team, Burnley, were bottom of the fourth division.
Which opponent do you admire?
Brendon McCullum, for what he did to New Zealand cricket over the last few years. I used to think that sledging was a big part of my game, but the more I chatted to him, the more I realised it didn't affect good players. New Zealand don't sledge at all – they don't talk to anybody, they just concentrate on their cricket. And that's what I try to do now.
Who is the most fun to socialise with after a match?
That whole "come back for a barbecue at mine" doesn't really happen any more. There isn't time, because you go from one ground straight to the bus to get to the next one. Mind you, we had a really good drink with the South African lads after the series there in January. We went to their dressing room, had a fines meeting and played drinking games.
Which team has the best dressing room atmosphere?
I was lucky to come into a Lancashire team that was quite old. They had a lot of experience and they were really relaxed, which helped me feel not under pressure and clam up. England was different. It felt like every man for himself. If you were a 20-year-old coming into the team, the sense you got was, "Who's this kid?" Not welcoming at all, but that has changed for the better in recent years.
Which team-mate do you admire?
I'll say Alastair Cook or Andrew Strauss. And not just because they are England captain and director of cricket right now! People think Cook is not blessed with all the shots, and that he's not the most fluent to watch, but he's one of the most mentally tough players I've ever seen. If you wanted someone batting for your life, I'd choose him.
Has any groundsman done special things to make a pitch lively for you?
Not really. It's not like in Turkish football, where they kill a goat to make the grass lucky. Mind you, I saw a groundsman step on a scorpion in Sri Lanka, but that was an accident, not a ritual.
Who is your greatest supporter?
My wife was brilliant when I was out for six months with a back injury. I'm a really fidgety patient, so I can be annoying. That said, my two daughters hate cricket. They're seven and five and at that age where they enjoy giving me lip. I love being at home, and they see cricket as something that takes their dad away.
Who do you turn to when you're not playing well?
You need a good unit of friends and family that you can lean on. I've played with guys like Marcus Trescothick and Jonathan Trott who had to retire because of the mental difficulties they were under. Whenever I'm suffering, I try to find a mate to go for a beer and forget about it. That's my cure – mild amounts of alcohol.
James Anderson is the new face of Brut Sport Style, available in Boots and top retailers nationwide. Follow @BrutForMen for more information
Sign up for workout ideas, training advice, reviews of the latest gear and more.
Grub Smith contributed interviews and features to the print edition of Coach, which ran from 2015 to 2016.