Greg Whyte: "The First Thing to Do is to be Audacious"
The former Olympian and "physical activity expert" on helping celebrities accomplish mind-blowing feats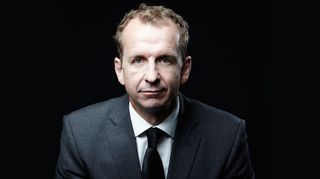 (Image credit: Unknown)
Who most helped you become a successful athlete?
The bottom line is that to be successful at sport you have to start young, and the only way to do that is to have parents who are willing to transport you to practice, to pay for your kit, to give up their own free time and to be there for the highs and lows of being an athlete.
So, were you "hot-housed" from a young age?
Oh, no. And I'm very glad I wasn't. Good junior athletes rarely become good seniors, because they have been driven too hard and they've stopped enjoying it. They don't stick with it when they are old enough to have the choice. In my case, I did a lot of sport as a kid because it was part of my social circle. I would do a two-hour session in the swimming pool with my mates and it would feel like fun.
Which sportsman was your hero growing up?
I chaired a session recently and we had Sally Gunnell on the panel. I spoke to her about which athletes she had looked up to, and she said there hadn't really been anyone. I have to say, I agree. As an athlete, I was envious of certain people who were achieving great things, and I strove to match them, but they were never an "inspiration". I never looked at them and thought, "I want to be you".
Who gave you the best advice?
My dad. He was a boxer, the number one light-middleweight in England, and he was a great mentor. I think that's what all sportsmen need: somebody to direct them, to tell them when they're getting too arrogant, to build their confidence up when they're feeling down.
What is the most useful book about sport that you've read?
There were a whole host of great texts that supported me in my growth as an academic, and the best one was a book called Lecture Notes In Human Physiology. It's the fount of all knowledge on the subject, and I still use it all the time now I'm working with others, whether they're gold medal-winners or cancer patients.
Which of the celebrities you have trained was the most impressive?
David Walliams, Davina McCall, John Bishop and Eddie Izzard… they achieved stuff that made people sit up and think, "Wow, that's incredible". I realised how hard these people had worked to achieve their success in show business, all the years of struggle to get to the top. We live in a terrible X Factor society where people believe you can become talented and famous overnight, but the truth is it's incredibly difficult to get to the top, whether that's in sport or business or entertainment. You need to have great powers of perseverance. And they clearly did.
Eddie Izzard ran 43 marathons in 51 days. Isn't that a bit excessive?
No, is the answer. He's since done another 27 in 27 days, and it hasn't done him any harm. I'm not claiming it would suit everyone, but he absolutely loves what he does, and it's obviously right for him.
What's the best tip you'd give somebody who wants to excel?
To recognise that most people have placed barriers in front of themselves. We are conditioned to think that many goals are simply impossible for us to attain. But "impossible" is just a construct. The first thing to do is to be audacious, to have the vision of challenging yourself. The truth is, you probably can achieve your goals.
How do you stop people quitting?
I'm doing a project for 9BAR at the moment, training people who are definitely not athletes to do a 10km run. I'm sure everybody will have moments when they want to give up, but the secret is to structure the programme correctly. You can't just have that The Biggest Loser technique where they stand over them and shout as loudly as a drill sergeant, you have to build a bespoke plan for each person. You're trying to find that intrinsic motivation within them that they can take away after the event is over and you're not around any more. Everyone's got it – there just has to be a reason for them to extract it.
RECOMMENDED: 10K Training Plan
Greg Whyte is a 9BAR ambassador, currently helping nine ordinary Brits get Great Newham Run ready by Sunday 17 July
Sign up for workout ideas, training advice, reviews of the latest gear and more.
Grub Smith contributed interviews and features to the print edition of Coach, which ran from 2015 to 2016.