Chris Froome: "I Wouldn't Fancy Getting on a Boris Bike"
Team Sky's two-time Tour de France victor on fallen heroes and urine-slinging fans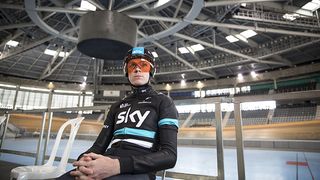 (Image credit: Unknown)
Who inspired you to become a cyclist?
I went along to a charity event in Nairobi, where I grew up, and one of the Kenyan national cycling team, a guy called David Kinjah, just said, "Why don't you come for a ride with us?" I'd only really ridden a mountain bike around the bush before, so I was amazed that people of that standard would let me cycle with them. It was a simple act of generosity that inspired me to start training properly.
Who was your hero?
I feel as if I got burned a bit in that regard. I was a teenager when I started following the Tour de France closely on TV, the big duel between Ivan Basso and Lance Armstrong in 2004. I supported Ivan because he was the underdog, but a year later, he tested positive for drugs, and that killed my perception of looking at people as heroes. From that moment, I just thought, I'm doing it my way.
Who gave you the best advice?
Bobby Julich was great when I first joined Team Sky. He gave me a lot of tips about surviving in the peloton, how to save energy, how not to "take wind" for the people hiding behind you. He was an ex-pro himself, and taught me how cycling is about much more than just doing the training – it's about your lifestyle off the bike, and the importance of recovery. He told me never to spend time on my legs after a hard session, and that's why my couch at home gets a lot of use.
What's the best thing about cycling fans?
One of the beautiful things about our sport is that it doesn't cost anything to watch. Anyone can camp out by the side of the road, have a barbecue, and be literally feet away from the best competitors in the world. That said, it can get a bit hairy. It's OK when fans run behind you, but what's a lot more scary is when they run in front. Especially after a few beers, because then they don't run in a very straight line, or realise just how quickly you are coming up behind them. That can get pretty sketchy.
Do you ever want to "politely" ask them to get out of the way?
I certainly thought about it when a man threw a cup of urine at me once, but I was going at 40mph and had the yellow jersey to protect. Lucky it was yellow given the circumstances…
What's the most beautiful stage in the Tour de France?
There's really no time to appreciate the alpine scenery. You're focusing on every metre of road, trying to pick your line. So for me, the best stage is the last one into Paris. You can see the Eiffel Tower as you approach the city, and it's amazing to be able to soak up the feeling of having completed three weeks and 3,000km of racing. You get an overwhelming feeling of accomplishment.
What is the best trophy?
When you win a stage, they give you a bunch of flowers and a stuffed toy lion like a teddy bear. They're worth their weight in gold. All your friends with kids have to get one of them. Those little toddlers never know how much sweat and effort went into earning their new toy – and then you see them on the carpet chewing the ear off!
Who is your best supporter?
I'd have to say two people, my coach Tim Kerrison, and my wife. She helps a lot behind the scenes, facilitating everything at home, and planning my life away from the team. That's a huge help. I'm terrible at keeping on top of emails and getting through admin.
Do normal bikes feel clunky to you?
Yes, I wouldn't fancy getting on a Boris. I have a city bike to do my shopping on, and it feels like riding my mother's old one with a basket on the back. Let's just say I prefer my Pinarello F8.
What's the best thing about cycling?
Recently, I was in Southampton and I put out a tweet inviting people to join me for a ride. Within a couple of hours, I had 300 people with me, which blew me away. It's testament to how much cycling has grown in Britain over last decade, and it's amazing to be a part of that growth.
Did any of them beat you?
Ha! I always get people hurtling past me when I'm out training, and they do seem delighted. They just don't know that I'm actually on my "easy" recovery day when it happens…
This year Sky will celebrate its one millionth Sky Rider, and Team Sky will compete for its fourth Tour de France title in five years. Follow @SkyLovesCycling for cycling inspiration
Sign up for workout ideas, training advice, reviews of the latest gear and more.
Grub Smith contributed interviews and features to the print edition of Coach, which ran from 2015 to 2016.