Miguel Angel Jimenez: "The Pressure to Succeed Just to Live Was Immense"
The notorious smoker on who helped him make his way on the golf course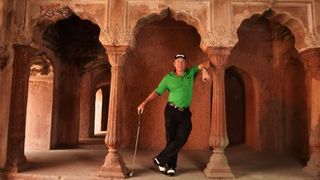 (Image credit: Unknown)
Who helped you become a golfer?
My elder brother Juan. I left school at 15 to work at a garage, because I love cars. But it closed down, so I went to work with him at the local golf course, caddying for people and collecting balls from the driving range. I started to play whenever I could, either very early before the members came, or very late at night, and he taught me.
How supportive were your parents?
I had six brothers, and my parents didn't like the idea of me becoming a golfer as well as Juan. We were a poor family, and the work ethic was important, doing anything to survive. They didn't see golf as a proper profession, and they hoped it would just be a temporary thing for me, until I found proper work doing something in the electrical or mechanical field. Sometimes there were big fights with them, because I was sure I wanted to play golf.
Who was your hero?
Severiano Ballesteros. He was the mirror we all reflected in, to judge how good we were, or could try to be. His charisma was incredible. You couldn't explain it, or learn it, but you could see it in the crowds who followed him around the course. There are players who will win more tournaments than he did, but they won't ever be loved the way he was.
What is the best golf course?
I like Carnoustie. It has a very nice layout by the sea, and the breeze makes it interesting. All the bunkers are well situated, always in play, so you have to put the ball in the right place every time. The whisky is nice up there, too. I like to drink some Lagavulin with my cigar, a smoky and woody flavour.
You're well known for enjoying life's little luxuries. What are the best treats you give yourself?
I drive home in my red Ferrari Maranello 550, that's a nice car. I used to smoke cigarettes, but I quit those for cigars – my favourite is a Cohiba Siglo VI. They're sweet and spicy. I like rioja, too, and I'm glad people know it. I don't hide the way I am. If I want to have a drink or a smoke, I do it. Why shouldn't I? It's not against the law.
What is the best thing about the Ryder Cup?
It's completely different to any other tournament, and you feel that from the fans. At most tournaments there are 150 players, all with their own group of supporters, but in the Ryder Cup you follow one team or the other. You can pick up the feeling from the crowd. It's very important, it gives you something more inside.
What has helped you have such a long career?
It took me 10 years to win on the European tour after I turned professional. For many years, I was very nervous when I played, because I had nothing, no money, and the pressure to succeed just to live was immense. If I'm a calm guy now, it's because I have that experience of playing for 25 years.
Which era of golf did you find was most enjoyable?
I've played with the old guys, like [Jack] Nicklaus and Seve, and I play with the new guys like Rory [McIlroy]. The difference is power. These young guys hit the ball so long, and I don't have that power. My muscles don't work the same way. But I do have some of the artistry of the older players maybe, the ability to move the ball where I want it.
Is it really annoying when people shout, "In the hole!"?
When you hit a good shot on a par three, you can understand someone saying it, but people who say it when you are driving on a par five, they are crazy!
Miguel Angel Jimenez is an ambassador for premium Hawaiian polarised sunglasses brand Maui Jim, official eyewear supplier of the BMW PGA Championship at Wentworth
Sign up for workout ideas, training advice, reviews of the latest gear and more.
Grub Smith contributed interviews and features to the print edition of Coach, which ran from 2015 to 2016.