Steve Jones: "I Go to the Gym Religiously Now"
The TV presenter and F1 front man on how there's no such thing as a perfect 10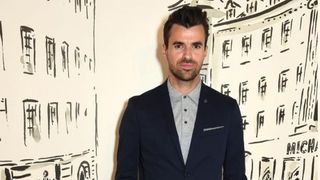 (Image credit: Unknown)
You'll probably know Steve Jones as the handsome chap from the telly who'd be on your list of Top Ten People to Look Like. As he gears up for a season of presenting Channel 4's Formula One coverage, is his fitness regime as speedy and high of decibel as the races he's overseeing?
How would you rate your fitness on a scale of one to 10?
I'm torn between honesty and modesty here… I'm going to say a hard nine at the moment. I don't think anybody is ever a 10 – if you're a 10, the fight's over, and the fight is the thing that helps us keep in shape. I don't ever want to be a 10; I don't even know what one looks like. A healthy 10 is something you'll never get to – you should try, but you should never arrive. It's about the journey, not the destination.
What do you do to motivate yourself?
I had a health scare recently – I slipped a disc in the base of my spine while playing squash. My wife was having to help me put my shoes on – it was very depressing and upsetting. I was seeing doctors and they talked about inserting rods into my back, real Frankenstein stuff. That scared the bejeezus out of me, so I decided against it and focused on reconditioning my back and making it stronger – it was the best decision I've ever made.
I'm so scared of going back to that dark place that I go to the gym religiously now – I work so hard at keeping my back fit, that everything else falls into line. If I go home after a long day and I sit down on the couch, I like to think I'll get up off my arse and go to the gym when I least want to. That's what separates you from everybody else – most people will go home and say "Ah, I'll go tomorrow", but you have to be like "No!" You will go – you've got to have that mentality.
I go to the gym every day; although if I go back to The Valleys, I'll take the Saturday off because normally there's a massive piss-up on the Friday…
What will you never do again?
When I go running, my brother is always timing himself too much and calculating distances – he's like "Next time I'll beat that". I'm like "What? Just go out there and do it! That's enough, why do you have to beat yourself?"
How is your fitness fingerprint unique to you and your career?
I work such unusual hours, that while a lot of other people are working, I can go to the gym – I'm lucky in that regard. My career is heavy on the aesthetics, you've got to be in shape – there's that pressure to always look good on camera. You have to eat healthy and all the rest of it, but if it keeps you in shape, maybe it's not a bad thing after all…
Channel 4 is the new home of free-to-air Formula One in the UK with live coverage of 10 Grands Prix this season and comprehensive highlights of every race weekend. Visit channel4.com for more information.
Sign up for workout ideas, training advice, reviews of the latest gear and more.
Gary Ogden wrote for the print edition of Coach between 2015 and 2016, writing features, interviewing celebrities and covering entertainment. He has also written for ShortList.