Singer and American Idiot Musical Star Newton Faulkner on the Best Kind of Motivation
"I'm in my pants for the whole show, so that's pretty solid motivation for not eating loads of crap"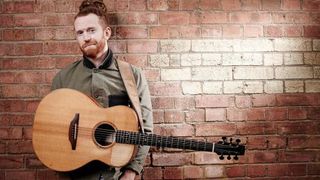 (Image credit: Unknown)
How did you prepare to become an "American Idiot"?
I've been gyming every day. I set myself a goal: by the time the play hit the West End, I would at least have the very beginnings of stomach definition. I now have that, which is amazing because six months ago that would have been unthinkable. I've lost over 10lb since I started American Idiot – I dug pretty deep for this. I'm in my pants for the whole show, so that's pretty solid motivation for not eating loads of crap…
What's your most impressive personal best?
I'm by far the healthiest I've ever been. In terms of personal bests however, I've done a couple of 10kms, although during the second one I missed a turning on the last lap so I kind of did an 11km. I basically lost count and as I was going past, I was like "Was I behind that guy or in front? Sh*t…"
RECOMMENDED: 10K Training Plan
Which excuse for not working out are you most ashamed of?
I haven't actually made an excuse not to go to the gym for a while – I'm a little bit addicted, I start feeling like my blood doesn't move around my body unless I push it to pretty near its limits first thing in the morning.
Have you ever secretly impressed yourself with a feat of strength?
Yeah, pretty much every week at the moment – I'm really stepping it up a notch and doing things I never thought I'd be able to do. They're not impressive to anyone else, they're just impressive to me because I've never been into this stuff before – it's all new to me.
How often do you take selfies in the gym?
I'd never post a picture of me in the gym. The most annoying ones though, are the people that post pictures of picturesque runs. "I saw this on my beautiful morning run!" F**k those guys…
How do you avoid the lure of the service station pasty?
I've been really strict. I bought a single hob so I could actually cook my own food – that has made a massive difference. Otherwise, all you can get is either pre-cooked stuff or takeaways. You just have no control over what's in that stuff, but now I can cook really nice, healthy stuff.
Which day of the week is your healthiest?
Sundays at the moment, because they're my day off and I allow myself to just flop, which I desperately need by that point. I'll just fit in as many movies and as many baths as possible into a day – I had four baths in one day once. The show is quite brutal on my body; I'm in my pants, being pushed and falling over quite a lot, so I get lots of cuts and bruises. So soaking my entire body in Dettol is needed once a week…
What's the worst type of gym behaviour?
Slamming massive weights into the ground – it just annoys me. There was this guy yesterday and every time he did it, he shook the entire building – the floor rattled, a light went out, it was seriously dangerous structural behaviour! There was also one guy I used to see and he never seemed to do that much, but he had headphones in and sang really badly and loudly. But I grew to love it because he sounded exactly like Mr Bean, which made it unbelievably hilarious.
What do you think about "leg day"?
Don't get me started on leg day. I have to be really careful because if I overwork my thighs, then it makes the show impossible. I can push my chest pretty hard without any repercussions, but if I push my legs the same way then I can't even get down the stairs.
If you could look like Arnie in his prime tomorrow, would you?
Definitely not. I said to my trainers that I wanted to be like a normal actor shape. However, "normal actor" shape by "normal people" standards is pretty ripped – if anyone takes their top off in a film, they've probably got a full six-pack. So I'm going for that, and it's been amazing – it's made general life more fun, too. I can outrun my five-year-old son, and he's like "Dad! Can we stop playing? I'm knackered…"
Newton Faulkner is starring in Green Day's American Idiot: The Musical at the Arts Theatre, London until September 25
Sign up for workout ideas, training advice, reviews of the latest gear and more.
Gary Ogden wrote for the print edition of Coach between 2015 and 2016, writing features, interviewing celebrities and covering entertainment. He has also written for ShortList.