Tim Lovejoy: Jose Mourinho Insisted Chelsea Players do the Crossbar Challenge
As football returns, the former Soccer AM host reveals the sport's good guys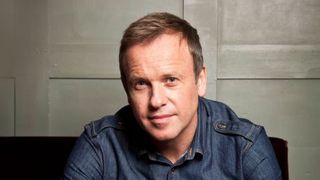 (Image credit: Unknown)
Which players do you admire most?
I really like players who actually look like they're enjoying the game. The ones who approach a match with that same enthusiasm we all had as kids, when we dreamed of playing football professionally because it seemed like the greatest job imaginable. The two players I've seen close up who most embody that spirit are Jimmy Bullard and Paul Gascoigne. You can easily believe they would have played for no money at all.
Who was the best Soccer AM guest?
The time that it changed for us was when we got Robbie Fowler. After that, we were OK with football's big guns – our calls got returned a lot faster. Mind you, some managers still wouldn't let their players on because they had that attitude of, "No one is allowed to say anything, in case they say the wrong thing." Sir Alex Ferguson and Gérard Houllier both put a veto on us. It was a breath of fresh air when José Mourinho arrived. He insisted that the Chelsea players do the crossbar challenge – he knew how to get the media on his side.
What was your favourite section of the show?
Showboat. When we started it 20-odd years ago, it was a boxing term, not something associated with football, and at first we struggled to find three clips a week. A few of the managers weren't happy with their players being seen doing skills. Their attitude was: "We're here to win a match, not have fun, so don't show my players being fancy." We've come a long way since then.
Who are you looking forward to seeing this season?
This season is all about the managers. Chelsea have Conte, who looked brilliant and passionate for Italy. Manchester City have Pep Guardiola, with his amazing record of success. Jürgen Klopp, what a huge impact he's had on Liverpool, he's so charismatic. Then there's Wenger, Pochettino… And José has won the league everywhere he's gone. I have no idea who's going to win, but I know it's going to be great!
What about the players?
Zlatan Ibrahimovic. I remember when he got sent off against Chelsea in a European tie, and I was one of the few Chelsea fans who was gutted, because I wanted to see him play. Mind you, his pre-match warm-up routine was like watching a Sunday league player. He just walked around lazily and every now and then had a potshot.
Who is your favourite pundit?
I'm quite impressed by Danny Murphy at the moment, he talks a lot of sense. Gary Neville was a revelation because he understood what the fans thought, as well as the players and managers. But if you listen to some of Gary Lineker's podcasts, his insights are excellent. He doesn't really put his opinions across on Match Of The Day because he's the cuddly front man, but he knows his stuff.
What's your favourite ground to watch a match in?
I was lucky enough to go the Milan derby many years ago, and the atmosphere in the San Siro, with the flags and the flares, was incredible. And I remember that they were selling lattes and paninis, at a time when in England you could only get a lukewarm Bovril and a mushy pie. Over here, I used to love going to Brentford with my mates for a midweek game, where you could just turn up, buy a ticket, and stand together as a group on the terraces.
What was the best thing about Euro 2016?
The Icelandic fans were the real winners. A ridiculous amount of the nation were there and their chant-clap routine was excellent. It'll probably get stolen, like the Poznan, and turn up in the Premiership.
Who can save the England team?
We have good selection of players, we just need to find a coach who makes them believe. Chelsea had been under-achievers for years, but José convinced the team that they would win the league, then he convinced the media and the fans, and you could feel that belief grow around the club. Similarly with Sir Alex – the last United team that won the Premiership wasn't the best we've seen, but he had the strength of character to make them think they could win.
Tim presents Sunday Brunch on Channel 4 on Sunday mornings.
Sign up for workout ideas, training advice, reviews of the latest gear and more.
Grub Smith contributed interviews and features to the print edition of Coach, which ran from 2015 to 2016.