Flo Rida: "I Just Want to Look Good"
The chart-topping rapper on how competition is the key to progress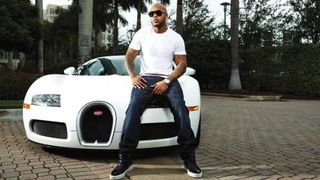 (Image credit: Unknown)
Flo Rida is known for releasing high energy, catchy earworms, but he's also known for having a rather impressive physique. How does he keep his famous body in check in amongst a lavish hip-hop lifestyle?
How would you rate your fitness on a scale of one to 10?
A 10! There's always some room for improvement, but I'll say a 10 because I have to stay very healthy, travelling around the world and performing as much as I do.
How important is health and fitness to you?
It's very important, but it's definitely organic because growing up, me and my guys around town would always challenge each other working out. I'm a guy who loves sports, too, so from eighth to ninth grade [14-15 years old] was the time where I was like, "If I'm going to play basketball or football, I have to really go hard." Also, having the records that I have – they're very up-tempo, so I have to be in shape or else I'd probably be done by the second song…
How do you exercise on the road?
f I'm not going to the hotel gym, I'll work out in my room, do 30 minutes of cardio – I do all that as well as trying to have a healthy meal plan. But with travelling, a lot of the time it's a challenge, but I make do. For the most part, I'll be at some great hotels, and they'll definitely have something parallel to the meal plan that I'm accustomed to.
What do you do to motivate yourself?
Well, one thing is I just want to look good – everyone wants that – and being healthy is very important to having some longevity in life. I love being around those who inspire me to go to the gym and look good. I used to go to a gym in high school that was across the street from the projects where I grew up, and we'd work out right after the football players left – the janitor would let us in. We used to see who could lift the most, and still today I work out with my security, and we'll have a friendly competition. It also comes from the fact that I remember when I couldn't lift 50 pounds, but the more I indulged in it, I was able to lift more and more, so there's self-motivation, too.
What's the highlight of your fitness week?
Probably Friday – it's like my song Hello Friday, because it's the end of the week, and when it comes to Friday night, I like to go and hang out, so I don't make it a long day at the gym.
How is your fitness fingerprint unique to you and your career?
Well, I get two for one – when I'm on stage, I'm on for about an hour, so that's a lot of cardio outside of me just normally working out. I don't really feel any outside pressure at all – when you have a passion for certain things and it's fun to you, you always want to experience it.
Flo Rida's new single Hello Friday Ft. Jason Derulo is out now. Buy on iTunes.
Sign up for workout ideas, training advice, reviews of the latest gear and more.
Coach is a health and fitness title. This byline is used for posting sponsored content, book extracts and the like. It is also used as a placeholder for articles published a long time ago when the original author is unclear. You can find out more about this publication and find the contact details of the editorial team on the About Us page.