Example Interview: Gigs Are More Knackering Than Half-Marathons
"It's 90 minutes bouncing around and shouting on stage"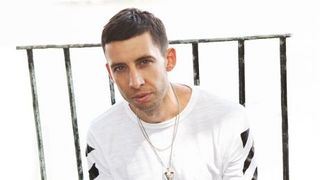 (Image credit: Unknown)
It's a summer of festivals, boat parties and revelry in Ibiza – something Example knows all too well by virtue of his relentless touring schedule. But does a life on stage and on the road equate to an unhealthy one?
How would you rate your fitness on a scale of one to 10?
I'd say I'm about an eight or a nine – in terms of appearance I'd probably look like a 10 if I ate a bit better, but I kind of eat whatever I like. When I'm at home, I train every day and eat well – I think I've got a good muscle memory and base fitness. I might not have been for a run for three weeks, but I can go back out and still easily run 10 miles.
How important is health and fitness to you?
It's really important – growing up, my dad was always into running, he did 12 marathons and would run six days a week. He had a tough job and was away a lot, and I think he took up running to deal with all that. When I was 13 and going through stresses with exams, he said, "Just start running and take your mind off things." So now when I come back from tour and I'm stressed, I'll go for a 45-minute run by the river – it really helps clear the mind.
What will you never do again?
I still want to get into yoga. I realise the benefits of it – I'm 34 now, and I should still be able to be in this shape in 15 years' time. I just don't have the attention span for it – I find it hard enough to sit still for five minutes in the same spot, that's why when I'm at the gym I'm constantly moving and doing things. I also don't like sitting there listening to someone else, and I can't stand the calmness of it – I want to be chatting to people…
How is your fitness fingerprint unique to you and your career?
Gigs keep me fit, because it's 90 minutes bouncing around and shouting on stage – I'm always knackered afterwards, more so than when I've done half-marathons. The tough thing I've always found with the music industry is that it's a lot easier when you have a nine-to-five routine, no matter what age you are – I don't have that. The music industry is also known for excess, partying and being drawn into that side of things. "Oh you can't play football tonight, you have to go to this gig," or "Don't go and do your circuit training, because you need to go out and get f**ked with this producer." Those have been the main battles for me – the amount of partying, which may or may not lead to better opportunities in the industry versus wanting to treat your body as a temple…
Example will play at Boardmasters Surf & Music Festival, August 10-14. Tickets available at boardmasters.co.uk
Sign up for workout ideas, training advice, reviews of the latest gear and more.
Gary Ogden wrote for the print edition of Coach between 2015 and 2016, writing features, interviewing celebrities and covering entertainment. He has also written for ShortList.