The Spartan Sprint race report
Read all about the Spartan Sprint's 5km and 20+ obstacles before you take on the challenge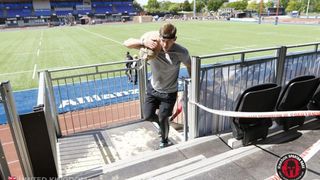 (Image credit: Unknown)
Obstacle course racing is a booming business. Barely a week goes by in the UK – even in the depths of winter – without some kind of mudathlon, muddinator or mudder taking place. The premise for most of these events is simple – running, mud and obstacles that allow you to indulge both your inner chimp and child in several fell monkey bar swings.
The short way round
I've come from a background of endurance sport and strength training, so I've always had an inclination to go for the longer, more physically demanding obstacle course races, as opposed to the non-competitive, team-orientated ones that promote walking between electric shocks and icy dips into frigid plunge pools.
However, a recent hip injury means I currently struggle to run more than 10K at a decent pace so I decide to take on a shorter obstacle race while I'm recovering.
The Spartan Sprint at the Allianz Park in London – where Rugby Union's Saracens play – fit the bill perfectly. 5km, 20+ obstacles and not a sniff of electricity – which I learned from taking a couple of powerful shocks to the face during a Tough Mudder I do not enjoy.
What's more, I quite fancy the idea of earning a Spartan trifecta medal – what you get when you complete all three Spartan distance – Sprint, Super (10km) and Beast (26+km) so this would allow me to complete the first third of the challenge while still on the road to recovery.
I arrive on the day an hour before the 12.30pm wave I'm running in and a kindly steward lets me into the 12.00pm heat because there's still some space at the back. I find myself next to a small bare-chested man who looks like he's defected from William Wallace's army. As a countdown of ten begins he screams out, 'AROO!' – the Spartan battle cry – at the top of his lungs. I resolve to get away from him as fast as my legs will carry me.
Jump around
The klaxon sounds and we're off. In a bid to escape the above-mentioned maniac, I immediately twist my ankle. Fortunately it's one of those tweaks you can run off and I'm soon up to pace. At the first obstacle – a chest-high hurdle, I realise I should have pushed right to front of the heat as I get stuck behind 20 or 30 dawdlers who don't seem very keen to get over it. At all.
Once I'm finally clear of the hurdle I decide my best chance of not getting held up at every obstacle is to hammer it past the amblers on the stretches of trail and grass between each feature. A back-and-forth route takes us to a pile of water-filled buckets we have to pick up and carry around a Saracens club building. From there it's up and down a short, sharp section of hills with a tyre. While not that big or heavy, the tyre quickly starts to dig into flesh, so you lose a bit of time moving it around to minimise this nasty sensation.
Next, it's an obstacle racing hallmark – a barbed wire crawl. I normally go on knees and elbows, but notice a couple of people lying on their side and rolling through at a rate of knots. I give it a go and discover it's certainly faster, but that you lose a few seconds to dizziness on the other side. And I wouldn't fancy it in the wet mud of other races – this urban Spartan Sprint is largely devoid of slop, you see.
After a few more crawls, some wall climbs and longer runs where you can really open up, we get to three of Spartan's more strength-based obstacles. The first is an Atlas stone carry that takes inspiration from World's Strongest Man. After carrying a 30kg stone 10m along a track and back, we move on to a dumbbell plate raise. Here you have to hoist up a dumbbell attached to a rope then lower it again under control to avoid getting nasty rope burns.
Finally, we hit a climbing rope. It's about five metres high but feels twice that when you get to the top to ring the cowbell that signifies you've completed the task. Failure to finish this or indeed any of the Spartan obstacles gets you a 10 burpee penalty – no fun at the best of times.
The piece de resistance of this Spartan Sprint is the Allianz Arena. As well as a two-metre wall climb, you have to carry a sandbag – approximately 10kg – up and down several flights of steps in the stands. The bag doesn't seem too heavy if you get to run but if, as I find myself, you're stuck at the end of a line of walkers, it becomes quite weighty – I was plodding like a hunchback by the third climb.
The sandbag carry leads to a spear throw. You have to chuck one at a raised hay bale but I hoon mine miles wide and pay the vicious plane-changing price of 10 burpees. From there I clamber up a climbing wall, under hurdles and finally over a giant triangular net before sprinting for the finish.
Because I finish in 45min 56sec and then recover fairly quickly, I feel as if I still have most of the day to get on with my life – in my case, a spot of homemade spear throwing in the hope that I can avoid doing any burpees at the Welsh Spartan Super I'm taking on later this month.
For more information and to enter a Spartan race, go spartanraceuk.uk
Sign up for workout ideas, training advice, reviews of the latest gear and more.
Nick Hutchings worked for Men's Fitness UK, which predated, and then shared a website with, Coach. Nick worked as digital editor from 2008 to 2011, head of content until 2014, and finally editor-in-chief until 2015.