Blenheim Triathlon 2015 race report
After a four-year hiatus, MF's Nick Hutchings has a second crack at one of the UK's best multi-discipline races – the Blenheim Triathlon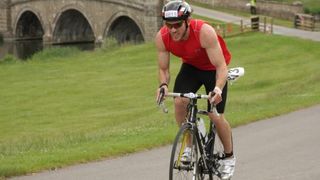 (Image credit: Unknown)
It was back in 2011 that I first really started getting into triathlons and, with Blenheim Palace being only five miles from Charlbury – the Oxfordshire town where I live, it was the logical race to cut my teeth on. Four years later and my triathlon journey has seen me take on four Olympic distance events, three Half Iron races and a full Ironman.
The Ironman was the hardest endurance race I've ever done – or will ever do. For many months after finishing it my passion for three-legged racing, in fact any racing, was burnt out. But it wasn't just the will that had gone, so too had a way to compete – labral cartilage tears in both hips and bone spurs in one ankle made it tricky to put in the training volume needed for longer events.
Back in the game
But as the winter of 2015 faded, the hunger to race began to come back – and a plan to reset and gently rebuild up to longer distances meant that the Leukaemia & Lymphoma Research Blenheim Palace Triathlon was once again a good starting point.
Back in 2011 I did it in 1 hour 26min 16sec, and I was desperate to beat it to prove to myself that my triathlon journey had improved my overall fitness in some measurable way. The 2015 race, however, does not start well. Sticking my head underwater as I tread water at the start gate makes me realise I've brought the wrong goggles – leaky ones. Too late to do anything about it though as the klaxon goes. The goggles immediately fill up with water on one side and I have to swim one-eyed, which makes it very hard to see the buoys I'm swimming towards. I also lose a bunch of time to emptying them every 20 or 30 strokes. I eventually clamber out the water and start to pull down my wetsuit some 16min 28secs after the race started. That's 15 seconds slower than in 2011.
Wardrobe malfunction
Rookie error number two: don't wear braced cycling shorts and nothing else under your wetsuit. With my wetsuit pulled down to my waist it looks as if I'm wearing a mankini and the crowd lining the route to transition lets me know it. Confusing Blenheim Tri with Magic Mike one excited spectator slaps me on the bum as I go past. My red face of shame is nicely hidden by my red exercise face though.
The 19.8km cycle route at Blenheim is an amazing tri bike course. Fast, short and hilly, it rewards lactic-building climbs with snappy, winding descents through lush woodland. I push through it in 37mins 19sec compared to my 39min 58sec time in 2011, meaning I've clawed back the time I've lost during the swim.
Let it go
The 5.67km run is made up of two loops around part of the main lake at Blenheim. It features a long uphill section that, while not particularly steep, makes up about a third of each loop and really takes it out of your legs. The solution is to let your legs go during the course's short sharp descents so you build up a good head of speed into the climb. I complete the run in 23min 13sec, 1min 17sec faster than in 2011.
That puts my overall time at 1hour 24min 47sec, 1min 27sec faster than my 2011 of time and that's with the handicap of faulty goggles, sloppy transitions and injured pride. I can't help but think what i could have achieved if I'd have worn a less revealing tri suit.
To sign up for next year's race, go to theblenheimtriathlon.com
Sign up for workout ideas, training advice, reviews of the latest gear and more.
Coach is a health and fitness title. This byline is used for posting sponsored content, book extracts and the like. It is also used as a placeholder for articles published a long time ago when the original author is unclear. You can find out more about this publication and find the contact details of the editorial team on the About Us page.