Reduce your swimming time
Here's how to tackle the hectic first leg of the Tough Tracks triathlon.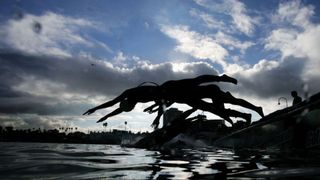 (Image credit: unknown)
Pick your spot
'If you're not confident swimming in a pack, then aim to start at the side of the pack but not at the back,' says Karl Jackson, triathlon coach at multisport event company 3xTri. 'If you're at the back you'll have to swim through all the competitors who swim breaststroke, which is an easy way to receive a kick to the head.'

Swim 100m at a time
'Try to think only about the first 100m on the start line,' says Richard Allen, a former British triathlon champion who is now a triathlon coach. 'Don't get drawn into a sprint or you'll get into massive oxygen debt, stop breathing properly and risk a panic attack. Start with caution and build your pace over the next 100m.'

Get your eye in
'Sight above the water quickly and regularly, every 12-20 strokes,' says Ben Bright, who coaches Olympic triathlete and British champion Hollie Avil. 'Try pool swimming with your eyes closed without hitting the lane ropes. You'll improve over time and this will make you a faster open-water swimmer because you won't have to sight so often.'

Kick less
'Kicking makes up about five per cent of propulsion in a novice athlete, so a fast kick uses up a lot of energy for little benefit,' says Karl Jackson. 'Keep your toes pointed and kick gently from the hip to help keep your balance in the water. Then kick more in the last 100m so your legs are ready for action when you get on your bike.'

Take the hit
'If you get hit, keep swimming,' says Ben Bright. 'The natural reaction is to stop and put your head up but then you become a target and people swim over the top, dunking you. Use a breathing pattern and pace that allows you to comfortably miss a breath and catch up on the next one.'

Smart draft
'Drafting can save 20 per cent of your swim energy but don't swim close on the feet of the swimmer in front because you may get a kick to the head as you accelerate or they slow,' says Karl Jackson. 'Find somebody swimming a little faster than you and swim to the side of them level with their hip.'

Turn like a kayak
'To go around a buoy, shorten your stroke on the buoy side,' says triathlon coach Simon Ward. 'So if you're turning left shorten your left stroke and do a few more strokes with your right, as if you were turning a kayak.'

Want more expert triathlon advice? Then subscribe to Men's Fitness magazine, we'll give you five issues for £5!
Sign up for workout ideas, training advice, reviews of the latest gear and more.
Coach is a health and fitness title. This byline is used for posting sponsored content, book extracts and the like. It is also used as a placeholder for articles published a long time ago when the original author is unclear. You can find out more about this publication and find the contact details of the editorial team on the About Us page.