Run To The Beat 2012 race report
Nick Hutchings breaks down his 2012 Run To The Beat run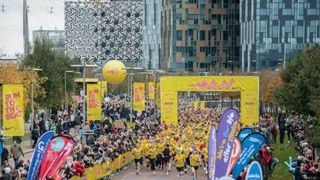 (Image credit: Unknown)
I started the race in the 1hr 20min pen. I had no business being there but I always start with the elites because it pushes me to run hard and also means that once the really quick people have passed me I have a lot of open space so I don't lose time because of bottlenecks.
Sorry, elites.
The race felt harder to me than last year's. I wasn't sure if that meant I hadn't trained enough or that I was just pushing harder, but after the six-mile mark my mile split times went from being in the high sixes to nearly eight minutes. Things improved just after mile ten though – there's a big descent down into Greenwich, which I looked at as an opportunity to let my legs go and build up the speed I'd need to achieve my target time of coming in under 1hr 30mins.
During the race I had avoided looking for the 1hr 30min pacesetter because it can be a bit demoralising seeing him come up behind you, but at mile 11 I noticed he was only 500m behind me and knew that I'd need to find more speed to stop him catching me. I had just enough in the tank to stay ahead of him and by sprinting the final 200m, I managed to come in at 1hr 29min 46sec. Mission accomplished – by a whisker.
Now I've had a couple of days to reflect (and for the muscle soreness to settle down), I have to say I thoroughly enjoyed the 2012 RTTB race. The weather was a chilly 7˚C, which mean I never felt like I was going to overheat, the east London landmarks - the O2, Greenwich Observatory and Canary Wharf - looked glorious bathed in watery autumn sunlight and, thanks to the 14 DJs playing tunes at different points of the race, the crowd of spectators was excited and vocal.
The only downer during the run was the wannabe gangsta doing his best 'nobody fucks with me' stroll along the race route. I shouted at him to get off the course as I went past him. He told me to make him, then got battered by the angry stampede of 11,995 runners – I came 250th out of 12,205 – behind me.

Sucks to be you, dude.

Today, not so much to be me.
For more on Run To The Beat go to runtothebeat.co.uk powered by Nike+
Sign up for workout ideas, training advice, reviews of the latest gear and more.
Nick Hutchings worked for Men's Fitness UK, which predated, and then shared a website with, Coach. Nick worked as digital editor from 2008 to 2011, head of content until 2014, and finally editor-in-chief until 2015.