Olympic Gold Medallist Jason Gardener: "I Am a By-Product of the School Sports Day"
The 2004 Olympic gold medallist on how he got a fast start in life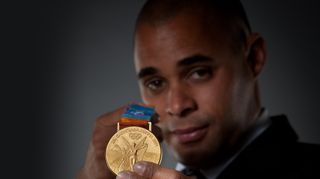 (Image credit: Unknown)
Who helped you become an Olympian?
I am a by-product of the school sports day. Winning a race when I was aged seven is my first memory of success. A lovely nun called Sister Mary O'Dowd showed me some medals and said, "If you're a good boy and you work really hard, you might win some of these." It coincided with the 1984 Olympic Games being on the telly, and I sort of knew right then what I was going to do with my life.
Which coach was crucial in your early years?
I went to a schools' athletics competition and met a man called Peter Roscoe. He'd come along to see his own kids compete and offered to help me out. Back in those days, there wasn't any internet, so I had no idea how to find a club, but he hooked me up with City of Bath AC. Unfortunately, not many clubs fancied visiting the West Country, so he had to load us up in his car and drive us around to the big cities searching for better competition. When I look at my medals, I see him. He is one of the faces I owe so much to.
What was the most important lesson you learned?
When I was 15, I went to the All-England schoolboy finals, having won everything in my local area, and I got a real shock. I was annihilated. I didn't even make the final. There I was, harbouring aspirations of going to the Olympics, and the reality hit me that there were better, faster kids than me. Right then, in that disappointment, was the biggest lesson I learned, both as an athlete and a human being. I realised that my talent alone wouldn't take me where I wanted to go.
Who helped you succeed?
I met an Olympic pole vault coach called David Lease. His experience of putting training programmes together helped me transform within a year. Under his guidance, I won the European Indoor title and became an Olympian. Later on, I switched to Malcolm Arnold. He wouldn't have been the right coach for me as a youngster, as you needed to have a certain type of personality for him to get the best out of you. For example, if you need a lot of attention, a friendly arm around your shoulder and a kind word whispered in your ear, he's not that guy. But as an adult I was happy with the focused hard work he put me through.
RECOMMENDED: Team GB's Olympic Training Plans
You were called "The Bath Bullet". Which athlete has the best nickname?
Usain "Lightning" Bolt. With a name like that, he was destined to run fast.
Which runners do you most admire?
I prefer the elegant sprinters, the most graceful was Carl Lewis. His physique and gait were perfect. And I liked watching David Rudisha break the world record at London 2012. That's the genius of true "naturals" – they make it look so easy the rest of us can dream, "That doesn't look so hard – maybe I could do it!"
What was your best race?
It's got to be the 4x100m Olympic gold in 2004, hands down. Just to feel the years of preparation and teamwork pay off. All our changeovers were absolutely spot on, and they had to be, because our individual speeds were actually slower than the USA's.
Who played the best mind games?
They start happening as soon as you get to the hotel, never mind the track. It's like big cats patrolling their territory. When you get to the start line, the atmosphere crackles, and there are all sorts of tricks – standing up suddenly, pacing in front of you, even spitting in your lane to ruin your concentration. There was no better person at handling it than Linford Christie, and I tried to learn from him. I was a sponge soaking up as much priceless information as I could.
Were any of your rivals friendly?
When I ran 9.98 seconds for the 100m, I noticed that the other high-echelon sprinters shook my hand and said, "Welcome to the club." That was an odd night. I'd run my heart out in the semi and clocked 10.03, so I thought I'd lost my chance. The final was only 40 minutes later, and I felt tired, so I ran a bit easier, within myself. I couldn't believe it when I saw three digits on the scoreboard instead of four – what a feeling!
Jason is working with Fusion Lifestyle, the leisure management charity, to help get children active with their Great Outdoors Summer of Stars campaign offering 10 children sports scholarships at New River Sport & Fitness in Haringey. For more information visit newriversport.com
Sign up for workout ideas, training advice, reviews of the latest gear and more.
Grub Smith contributed interviews and features to the print edition of Coach, which ran from 2015 to 2016.