Why You Should Run Outside
Exercise outdoors to lose weight and be happy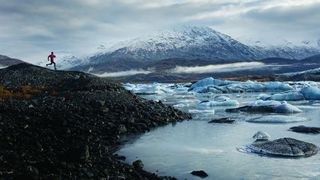 (Image credit: Unknown)
One effective way to make 2017 your fittest year ever is to get out and start pounding the pavements. You could run on the gym's treadmills, true – but if you want to lose weight, get fitter and feel happier faster then the great outdoors is where you need to be.
Research from the University of Exeter has found that road runners burn more calories when running at the same speed than treadmill runners, mainly because of the wind resistance they encounter (Forced indoors by bad weather? Set the treadmill incline to 1% – this helps you burn as many calories as running outdoors, according to the Journal Of Sports Sciences).
And additional research found that exercising outside, especially in green environments, made people feel more positive and more energised, with a decrease in levels of tension or anger.
So running can be great for your physical and mental health, but if you want it to be a legitimate fat-torching workout you need to train smarter. That means that your runs, whether in the gym or outside, must be short and intense to elevate your heart rate so you leave your comfort zone well behind you. Try these three sessions by elite runner and coach Shaun Dixon (letsgetrunning.com) and burn fat faster.
HIIT Session
High-intensity interval training (HIIT) is a structured run during which you alternate between different intensities. You maintain a set pace (fast, moderate or slow) for a set amount of time. After a 10-minute warm-up, try alternating 30 seconds of moderate, then fast and then slow running. As you get fitter increase the fast spells and reduce the recovery spells.
RECOMMENDED: Interval Training For Runners
Fartlek Session
Fartlek – Swedish for "speed play" – means a run in which you alternate between periods of intense effort and slower recovery periods. It's like a HIIT session except it's not structured, so you can change your pace based on how you feel. Next time you're pounding the pavement, do faster running between every other lamppost that lines the road, or trees that line the path in the park.
Hill Session
These burn fat fast and improve cardio fitness – but they're tough. Find a hill, sprint up it, then walk back down to recover and repeat. The steeper the hill the harder it will be and so the shorter the duration of each sprint. You can do this type of session for time, or do a set number of sprints. After a 10-minute warm-up hit the hill hard, walking back down slowly to catch your breath and recover.
Sign up for workout ideas, training advice, reviews of the latest gear and more.