The Best London Parkruns For PBs, Great Views And More Reasons To Travel On Saturday Morning
The Best London Parkruns For PBs, Great Views And More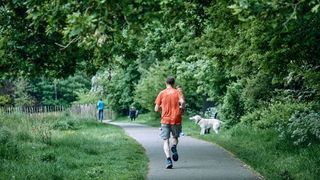 (Image credit: unknown)
Photograph: Bruce Li
In November 2014, when I first got up early on a Saturday morning to try parkrun, there was no shortage of choice. Yet for the first four months I repeatedly went back to Wimbledon Common – not exactly a lazy option (I was starting my weekend running 5K, after all) but not what you'd call adventurous either.
In the six years since, Greater London's parkrun scene has expanded to 56 courses. Cover all of them and you can proudly tick off the #LonDone achievement – until new ones open up anyway.
As someone who has visited 36 London parkruns and is well on their way to joining the 250 club, I've covered enough ground to make some recommendations for runners looking to expand their horizons in the capital. Here are my picks.
London is home to a number of flat courses so there are plenty of places that can help your chances of a new PB, but the absolute flattest with just eight feet (2.4m) of undulation – according to these elevation rankings – is Hackney Marshes.
That certainly aligns with my experiences there, and it also doesn't have the multiple lap congestion risk that similarly incline-free parkruns at Fulham and Dulwich have. It does have a small section on grass, though, so after a particularly wet period you might want to chance the honourable mentions below which are 100% Tarmac.
Honourable mentions: Fulham Palace, Dulwich, Burgess
Best London Parkrun For Lovely Views: Ally Pally
If you want good views, you'll need some elevation, and Ally Pally is certainly good for that. It has two courses – there's a less grassy one in winter – and both offer excellent vistas of London. If you're the kind of person who likes to enjoy the scenery, this is well worth the trip – just make sure you've done some hill training in preparation.
Of my honourable mentions, the views at Gladstone and Hampstead Heath come courtesy of hills, but if you prefer pretty scenery on the flat, then you can't beat Kingston's route alongside the Thames.
Honourable mentions: Kingston, Gladstone, Hampstead Heath
Closest London Parkrun To A Tube Or DLR station: Highbury Fields
I'll be honest: I haven't got a trundle wheel out and measured the distance from ticket barrier to start line, but a number are certainly on my go-to list when I've got up late and have to rely on TfL.
Highbury Fields is probably the closest, just a three-minute walk from Highbury & Islington station – which is handy if your warm-up jog needs to become a warm-up sprint thanks to poor timekeeping. Be warned, though: it's not the most interesting of courses and involves a pretty tedious five laps that go around, rather than in, the park.
Honourable mentions: Clapham Common, Southwark, Victoria Dock
Busiest London Parkrun: Bushy
Is it any surprise that the original parkrun is also the busiest? Bushy parkrun began all the way back in 2004 and usually hits at least 1,200 runners even in the coldest months. Case in point: 2,545 people started Christmas Day 2019 by running it. The resulting atmosphere makes it a must-visit even if it doesn't become a regular stop on your parkrun tour.
The overcrowding doesn't make it great for a PB and neither does its muddy nature. That said, if you ever find yourself tempted to stop and walk, attending Bushy is a good way to ensure you don't. When I went, it was so busy that I felt like I was on a running conveyor belt from start to finish. I was pretty hungover that morning but there simply wasn't an easy way to let my aching limbs beat me and I set a pretty respectable time as a result.
Honourable mentions: Clapham Common, Finsbury, Tooting Common
Quietest London Parkrun: Beckton
If you're thinking you'll need to head to Zone 6 for a bit of peace and quiet, you're in for a pleasant surprise. Beckton parkrun is in the shadow of London City Airport, just east of Canning Town and easily walkable from the Royal Albert DLR station, and yet, at the time of writing, the number of runners has only broken the three-figure barrier on three occasions. A turnout of fewer than 50 is the norm.
To put it another way, on the last run there, you could have achieved a podium finish with a time of 21min 20sec, and come first with a time of 20min 37sec. But even distinctly average runners like me are guaranteed a respectable top-30 finish, making it a fine choice for parkrunning tourists.
Honourable mentions: Wormwood Scrubs, Pymmes, Bethlem Royal Hospital
Toughest London Parkrun: Lloyd
If you fancy a challenge, then in London they don't come tougher than Lloyd Park in Croydon. It's undulating throughout, but there's a particularly sharp hill 1.5km into the course, which you have to face twice over the duration of the two-lapper.
It's also a cross-country-style run, with muddy woodland making those uphills all the less pleasant. You probably won't be setting a PB here, but you'll certainly be proud of yourself when you stumble over the finish line.
Honourable mentions: Hilly Fields, Crystal Palace, Roundshaw Downs
Hilliest London Parkrun: Hilly Fields
With 253 feet (77m) of elevation, Hilly Fields is nothing if not appropriately named. That said, it's not far ahead of Crystal Palace (250ft/76m), Gladstone (244ft/74m) and Lloyd Park (239ft/73m) in the wider scheme of things.
If you fancy going slightly beyond London, as I did one one particularly empty Saturday then the one on the Mole Valley Vineyard in Dorking is an absolute beast with 289ft (88m) of elevation. Let's just say I've never seen so many people stopping to walk within the first kilometre before. The last 2km are downhill all the way, though, so you can make up some time.
Honourable mentions: Crystal Palace, Gladstone, Lloyd
Sign up for workout ideas, training advice, reviews of the latest gear and more.
Alan is a freelance tech journalist and mostly covers fitness trackers for Coach.
Alan was not what you would call a big fitness guy growing up, but has been radicalised by parkrun and taken up running in a big way. Although nowhere near podium at races, as a late starter he does at least know that he can still get faster. Alan has written for ShortList, Tom's Guide, Trusted Reviews and Expert Reviews, among others.