Exclusive Lyoto Machida Interview
'The Dragon' tells us about shooting tigers, drinking piss and not getting hit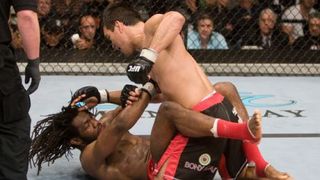 (Image credit: unknown)
Since Lyoto 'The Dragon' Machida first fought in the UFC in 2003 he has shaken up the sport with his devastating karate style, which helped him knock out Rashad Evans at UFC 98 in May 2009 to take the light-heavyweight title. As well as Evans, Machida has beaten some of the UFC's biggest names – including BJ Penn, Tito Ortiz and Rich Franklin – and remains undefeated, having taken barely a scratch in his 15 fights. 'You can't hit him, you can't touch him,' says UFC president Dana White. 'I think he might be the most talented fighter on the planet.' We talked to the Brazilian about his training and his astonishing success.
You originally trained in karate. Has that given you an advantage in the UFC?
It teaches you timing and knowledge of distance in a fight. A lot of fighters haven't developed this.
How would you describe your fighting style?

Precise. It's as if you had only a few bullets to shoot down a tiger. You can't fire a wrong shot. Precision is hugely important to me. That and not taking any shots myself.
How do you train for the Octagon?
I train to gain strength and power. I do my strength work with a lot of weights, then I reduce the weight by 30 per cent and do explosive reps for power. The explosive training simulates the point in a fight where you have to deliver continuous powerful strikes to end the fight.
You've said that you drink your own urine. What are the benefits of doing this?

It makes me feel super fit. It is something I learned from my father when I was young – it really strengthens my immune system. Those who have tried this say there is no harm, but it's an acquired taste.
How do you want to be remembered in the sport?
I want to be champion and face the toughest guys in my weight class. I want to be remembered as someone who showed the world a great martial arts philosophy, and as someone who defended Brazil and karate. But mainly I want to be remembered as a respectful and well-educated man.
Sign up for workout ideas, training advice, reviews of the latest gear and more.
Coach is a health and fitness title. This byline is used for posting sponsored content, book extracts and the like. It is also used as a placeholder for articles published a long time ago when the original author is unclear. You can find out more about this publication and find the contact details of the editorial team on the About Us page.