Exclusive Paul 'Semtex' Daley interview
We caught up with promising British welterweight fighter Paul Daley before his UFC debut on 19th September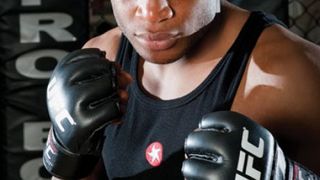 (Image credit: unknown)
You were due to fight Brian Foster in your UFC debut but will now face Martin Kampmann on 19th September at UFC 103 in Dallas, Texas. Is Kampmann going to be a harder opponent?
It's my job to fight so I don't care who I'm put in the cage with. It's taken me six years and a lot of hard battles to get to this position and I'm going to grab the opportunity. Every fight at this level is a proper test but I always train to beat the toughest opponents. I'm a striker so my strategy is to keep the fight standing for as long as possible. He likes to stand too, so I'm expecting to win by knockout.
How fit are you out of ten?
I'm a nine right now and feeling great. To be a ten ahead of a fight I'll taper in the final fortnight. The first week I switch off totally to give my body and mind the rest they need, but in the final week I crank it up again to get in perfect shape.
How did you get into mixed martial arts?
I'd been doing martial arts since I was about seven years old, and one of my mates showed me a UFC DVD. Any true martial artist wants to compete and test themselves against others, and to fight in the UFC is the pinnacle for any fighter: it's the premiership of MMA.
What's in a typical training session like?
I'll start with a 30-minute jog, then 12 or so 50m sprints with a brief recovery after each rep. I'll then do some whole-body conditioning, typically 30 explosive bench presses or medicine ball throws. Each exercise is separated by one minute of pad work. Then I'll rest and come back in the afternoon for a couple of hours working on martial arts, finishing off with some sparring. It's about four to five hours a day, six days a week.
What's your favourite style?
Thai boxing is the art in which I train with the most passion. I love mixed martial arts, but the strategy and tactics behind Thai boxing were easier for me to pick up than jiu jitsu or wrestling. Thai boxing works to my strengths because I'm a striker and want to knock people out. It's what the crowd wants to see.
How close are you to being the fighter you want to be?
I want to be the complete fighter who can smash anyone. I don't think I'm too far away from it. My ground game needs to improve continually. My wrestling is up to par now but it's still not where I want it to be.
What do you do away from the ring?
When I was independent I was fighting all the time to feed myself. Now I've signed with the UFC I'll have more time between fights and I'm planning to go to Thailand and Brazil to study the origins of their fighting styles. It's important to appreciate the basics of these arts to improve my technique and skill further.
Is fighting second nature or do you think in the ring?
MMA is like a chess game. It's not just a physical battle but a mental one. It requires intelligence in the cage. You could take any hard man of the street and put him in the Octagon. He'd soon find out that it's not as simple as it looks and requires a lot more than just brute strength.
For more UFC workouts, subscribe to the magazine. We'll give you three issues for £1. And check out our UFC workout section.
Sign up for workout ideas, training advice, reviews of the latest gear and more.
Coach is a health and fitness title. This byline is used for posting sponsored content, book extracts and the like. It is also used as a placeholder for articles published a long time ago when the original author is unclear. You can find out more about this publication and find the contact details of the editorial team on the About Us page.