Exclusive Ross Pearson interview
At UFC 105 on November 14th, Ross 'The Real Deal' Pearson fights Aaron Riley in his first fight since winning The Ultimate Fighter reality show.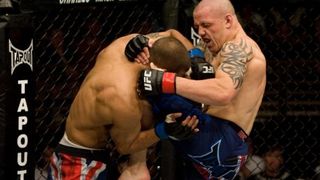 (Image credit: unknown)
What's a typical week's training like for you?
Mornings tend to be wrestling and Jiu-Jitsu and I do boxing and Muay Thai sparring at night. I also do two sessions a week of strength and conditioning. One comprises sled-pulling, tyre-flipping and sledgehammer-swinging. That's about 50 minutes. The other session's more about cardio conditioning for about an hour. I do pull-ups, resistance-band punching and jump squats into sprawls. It's horrible – sometimes it feels like you're going to puke up a lung. It's just constant go, go, go. But as painful as it is, I like training and I'm mad for the sport. Even if I was only fighting on the little shows, I'd still do it. I just love the test and knowing that I'm the best I can be.
Do you get pre-fight jitters?
Not really. I get more nervous about a three-month training camp. The worst part about it is the diet and the time away from my family. The diet's pretty intensive, I have to drop about 22 pounds to make weight. I lose a lot in water, but I'll just eat tins of tuna and pineapple when I'm on a diet – that strips the weight straight off me. I'm not the biggest lightweight, but I don't like ballooning up and having to drop a lot of weight – it can make you sluggish and weak.
What's the atmosphere like in your dressing room before a fight?
It's fun, man, we have a laugh. My cornermen are my friends and we'll joke around. I go out relaxed.
How did you first get into MMA?
I started martial arts at a very young age; I got my black belt in Tae Kwon Do when I was ten. I always said to my mum and dad I wanted to be a black belt in every martial art. I got a brown belt in Judo and competed in the nationals. I then went into amateur boxing until I was about 17. That started getting a bit stale, so when I saw the UFC I knew I had to get into it.
How was your first MMA fight?
Pretty funny, actually. I was more or less just a boxer going up against a wrestler; I won the stand-up but he kept taking me down. By the end my face was a mess, his face was a mess, and the guy went for an armbar and the ref stopped the fight after I escaped. The entire crowd started booing, so it went to the judges and I won. After that I had a few amateur fights, but then went away for two years and just trained, didn't have any fights. I was 20 when I had my first semi-pro fight.
What's the worst you've been hurt in a fight?
I don't think I've ever been hurt in a fight. There's been a lot of times when it's hurt the morning after, and I've felt like an old dog lying in front of the fire. The toughest fight I've had was Jason Dent on TUF. He just wouldn't go away. I also fought a Thai boxer called Curt Warburton three times. The third fight was an absolute dogfight – at one point we hit each other at the same time and both went down, like in a Rocky film.
Who's your favourite fighter?
Randy Couture for what he's achieved, but for skill, technique and athleticism I've got to say GSP. I could watch him fight all day. I don't think anyone in the world can beat him right now. Out of the English guys I like watching Paul Daley the most. I train with him at Rough House, I just love his aggression and the way he puts it all on the line.
If you could fight anyone, who would you fight?
I'd love to fight GSP, man. I'd be a massive underdog, but I'd just love to fight him to see what he's like. I'd have to try to box him, but I'd end up working off my back – but then he's a black belt in Jiu-Jitsu as well. I dunno what you could do against him. I'd love to train with him as well.

Check out this Dan Hardy workout (opens in new tab) video and stay tuned over the next two weeks as we bring you more exclusive interviews in our countdown to UFC 105.
Want more UFC interviews? Then subscribe (opens in new tab) to Men's Fitness today. We'll give you five issues for £5.
Sign up for workout ideas, training advice, reviews of the latest gear and more.
Coach is a health and fitness title. This byline is used for posting sponsored content, book extracts and the like. It is also used as a placeholder for articles published a long time ago when the original author is unclear. You can find out more about this publication and find the contact details of the editorial team on the About Us page.