Georges St-Pierre on dinosaurs and why karate is the answer
Check out this interview with GSP, the UFC welterweight champ and nicest violent man you'll meet.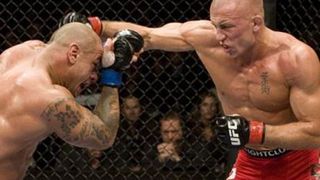 (Image credit: unknown)
You've fought Josh Koscheck before but he's since said he didn't do much wrestling training for your first fight. Are you expecting him to try harder for the takedown in this fight?
Yeah, I think he's going to try to put me down. I also think he's going to try to knock me out with his big right hand but I know him. I've been studying so much tape on him, I've got to the point where I know Josh Koscheck probably better than he even knows himself. My coaches have been studying him a lot. Being with him on the Ultimate Fighter for eight weeks was a way for me to know him a little bit better as a person and as a fighter.
Did the way he acted on the show surprise you? He comes across as a bit of a bully at times.
I knew how he was before I got there. I think he was like that to get inside my head, and to keep the fans entertained. I don't think he's a bad person. In a way, I think that's his way to motivate himself. He likes to be the bad guy.
Did you enjoy the experience of coaching on the Ultimate Fighter?
Yeah, I used it as a little training camp for myself because all my coaches were there. Greg Jackson is a very good tactician and John Danaher is an excellent jiu-jitsu coach and motivator – it was a great experience.
We've heard that you train in the UK occasionally. Who do you train with when you're here?
I train with a Thai boxing coach called Alan and I'll do my jiu-jitsu with Roger Gracie. Roger's probably going to come over and train with me before the Koscheck fight.
You've said before that not every fighter is a martial artist. What's the difference?
A fighter trains only when he has a fight. He trains only when he's fighting. Me, I train for a lifestyle. Even when I'm not getting ready for a fight, I'm always in shape, I'm always in training. I do it as a lifestyle. I studied in Kyokushin karate when I was young and that's why I think I'm like that.
Which other fighters do you regard as true martial artists?
Randy Couture, Lyoto Machida, Roger Gracie, these guys are great martial artists. All those guys that dedicate their lives to one martial art in particular and improving it – they're true martial artists.
You brought in Mike Tyson to talk to your team on the show. What inspired that decision?
Mike Tyson was my idol growing up. I grew up watching him boxing and terrorising everyone in the heavyweight division. I learned a lot from him on boxing, and about mind games.
What do you think about the current state of fighters from the UK?
I like a lot of them. Tom 'Kong' Watson is a good friend of mine and a good training partner. Maybe he'll be in the UFC one day, he's good enough to be there.
Were you surprised by the result of the Carlos Condit/Dan Hardy fight?
Yes and no. I think Hardy made a mistake. He wanted to swing too hard, to make the crowd happy, you know? He came in very wild. When you stay in the middle and exchange, it's like flipping a coin. Not many people realise that if the punch had been a split second later, it would have been the other way around, Hardy would have knocked out Condit. They both connected but one connected a little bit before the other. It's risky to exchange in the middle like this – you need to cut angles and change levels. It's about hitting and not getting hit.
Do you think Hardy's still a dangerous fighter?
I think Hardy's still one of the best, it was just a mistake. Half a second's difference and the result would have been the other way around.
What about John Hathaway? He's one of the other top British prospects at the moment.
John Hathaway's very good too. He lost [against Mike Pyle] but I think that was just inexperience, I think he's a very good fighter.
One thing that you have in common with fighters from the UK is you didn't wrestle in school or college, but now you've got some of the best takedowns in the UFC. What do you think UK fighters can learn from your success?
People think my takedowns come from wrestling but I've done karate for so long. You can use karate as a set up for punching people, to cover distance, or to put someone down. I use it to cover the distance and put people down, and I'm very good at it. A guy like Lyoto Machida does it too. So it's more than just wrestling, it's about fighting itself.
So what should the UK fighters work on?
It's being a martial artist and a good athlete. It's not only wrestling, it's about putting it all together. I've beaten guys with takedowns who are better wrestlers than I am, with a better pedigree. But my set ups in mixed martial arts are better than them and that's why I can put them down.
Everyone wants to see a superfight between you and middleweight champion Anderson Silva. Chael Sonnen's had some success against him in the Octagon – if you fought, would you try to emulate what he did?
I'm a different fighter to Chael Sonnen. I believe I'm more versatile. I can cut angles and I can fight in different styles.
One of your best traits is your explosiveness. How do you train that?
I do Olympic lifting and gymnastics to become more explosive. I really enjoy gymnastics.
What do you think of the recent WEC merger with the UFC?
It's very good because most people in the world are lighter than the ones you see in the UFC so the lighter WEC-inspired weight classes open the promotion up to more fighters.
We've heard you're a big fan of paleontology. How did that come about?
Since I was a kid I've always drawn monsters and I've always been passionate about dinosaurs. They're the closest thing you can get to a monster.
What's your final prediction for the Koscheck fight?
I win, that's all I can say. Submission or knockout.
For more interviews with top UFC fighters, subscribe to Men's Fitness. In the next issue (Jan 2011) British lightweight Ross Pearson will be showing you the workout he uses to build Octagon-ready strength.
Sign up for workout ideas, training advice, reviews of the latest gear and more.
From 2008 to 2018, Joel worked for Men's Fitness, which predated, and then shared a website with, Coach. Though he spent years running the hills of Bath, he's since ditched his trainers for a succession of Converse high-tops, since they're better suited to his love of pulling vans, lifting cars, and hefting logs in a succession of strongman competitions.