Dan Hardy on beating Johnson to the punch and Charlie Sheen
Standup specialist Dan Hardy explains how he's going to put a beating on Anthony Johnson.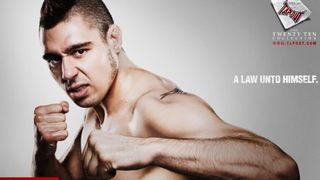 (Image credit: Unknown)
Your opponent at UFC Fight Night Live this Saturday, Anthony 'Rumble' Johnson, has a history of missing his fighting weight. Are you expecting him to do the same again?
It's not unrealistic to think that he might, yeah. He's had a long layoff since his last fight, and the weight that he walks around at it's got to be physically difficult for him. But I've seen him training this week, he's been working hard to get down [to 170lb/77kg]. I'm expecting a good fight either way.

Johnson's traditionally a stand-and-bang kind of guy, and you're a standup specialist. Do you think there's any chance of him trying to take you down?
I'm planning to beat him into it. I know he wants to stand up with me, but I'm sure he'll change his mind after I've hit him with four or five hundred punches. But I've got some surprises for him on the floor too – I've been training with [Brazilian jiu jitsu experts] Victor Estima and Paul Cole, and my ground game's really coming on.

Where does a big win on Saturday night put you?
I think it'd re-establish me in the fans' eyes. I lost to Georges St-Pierre [at UFC 111 in March 2010] and I don't think there's any shame in that, but the Carlos Condit loss [at UFC 120 in October] wasn't supposed to happen – that was a huge setback. Johnson's quite slow, so this is going to be a bit of a showcase for me. I'm planning a Muay Thai clinic.
We've seen a lot of flashy moves in the Octagon recently, including Anderson Silva's front-kick knockout of Vitor Belfort at UFC 126 and Edson Barboza's wheel kick. Your background includes tae kwon do and time at the Shaolin monastery, so are there any moves you're looking to bust out?
Yeah, there are a lot of skills I've got that I can call upon. I knocked a few people out with a spinning hook kick in tae kwon do, and I've thrown it maybe once in my entire MMA career. It's interesting – when the UFC first started, the first evolution of the sport was cutting out all those crazy moves, bringing it right down to what worked. MMA almost became a style in itself, and everyone did the same moves. But there's a lot of traditional stuff that works, because there's such a huge range of techniques that it's impossible to look out for them all. I think there are a lot of moves from sanda [the Chinese combat style also known as sanshou] and tae kwon do that haven't been seen yet in MMA that would work, and we'll see them eventually.

Some of Team Rough House trained with UFC welterweight champ GSP when he recently visited the UK. Did you spend any time with him?
I was invited to, but I decided not to. He's still in my division, so there's the possibility that I'll end up fighting him again, and I don't want to make friends with people I'll have to fight. If he ends up moving up to middleweight, we'll see.

Did you enjoy his fight with Josh Koscheck at UFC 124?
Yes, absolutely. It was a great lesson for other fighters on how to control the range with a good jab and good footwork, how to shut a guy down. I think Koscheck came in thinking it was going to be totally different from their first fight [at UFC 74, when St-Pierre won by unanimous decision] and he got a beating. And, of course, I liked watching him get punched in the face. To be honest, I wouldn't mind watching Koscheck trip up and smash his face on a kerb.

There's certainly a lot of excitement in the welterweight division at the moment. What was your take on the draw between BJ Penn and Jon Fitch at UFC 127?
I thought BJ edged the first two rounds, but the last round was all Fitch – BJ couldn't get anything going. But it's tough to define what a 10-8 round is. To be honest, I've got the easy job as a fighter – I'm glad I'm not a judge! I thought it was a great fight though. I could easily watch a trilogy between those two.


Would you like to fight Penn now that he's back up at welterweight?
Absolutely. He's a legend of the sport, and it'd be a fun fight, great for the fans.

Agreed. In the meantime, what's your final prediction for Saturday night?
Winning. Winning Charlie Sheen style.
For more on Hardy, go the UFC website (opens in new tab).
Sign up for workout ideas, training advice, reviews of the latest gear and more.
From 2008 to 2018, Joel worked for Men's Fitness, which predated, and then shared a website with, Coach. Though he spent years running the hills of Bath, he's since ditched his trainers for a succession of Converse high-tops, since they're better suited to his love of pulling vans, lifting cars, and hefting logs in a succession of strongman competitions.