Andre Winner on sparring with GSP and British UFC champions
The striking sensation talks to MF ahead of his lightweight bout with Anthony Njokuani at UFC 132 on 2nd July.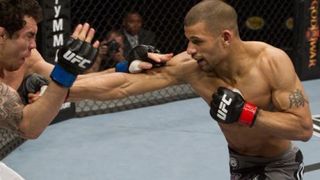 (Image credit: Unknown)
What do you know about Anthony Njokuani?
I've seen some of his fights in the WEC, and I saw his last UFC fight against Edson Barboza which was a really good fight. Anthony showed some really good stand-up skills.

So why do you think he lost?
He fought hard and had the higher workrate, but Barboza did the slightly more eye-catching things. I think it was the last kick from Barboza that won him the fight.

What do you expect from him during your fight?
He throws good combinations, he's got good angles and he's quick. I reckon he'll stand with me, which suits me to a tee and will make for an exciting fight.

A lot of British fighters work with one gym, which in your case is Rough House, but also go off and train with other people as well. How well do you think that method works?
I think it's the best way, to be honest. Guys from the Rough House gym, such as Dan Hardy and Paul Daley, have always gone to different places and come back with new skills so it's something I've started doing too.
What's been the most eye-opening experience you've had at another gym?
Going over to Montréal to train with the guys at Tri Star, such as [UFC welterweight champion] Georges St-Pierre, really helped me progress. I went out there to be one of GSP's sparring partners in the run up to his fight with Josh Koscheck. I picked up some really good tips from him, including the need to be efficient during a fight so you don't gas.

If you win your next fight where do you think that puts you in title picture?
I don't think about the title picture too much at the minute – there are a few things I need to do before I can contend for the belt.

What are those?
My first is obviously to win my next fight! There are rumours that there's going to be a UFC event in Nottingham, so if I'm injury free, I'd love to be involved – it would be like fighting at home (Winner's from Leicester). Maybe after another four fights, as long as all goes well and I've built up my skills, I'll start asking for some big names.

The owners of the UFC – Zuffa – recently bought rival organisation Strikeforce. How do you feel about that?
It think it's awesome for the fans, and there'll be more competition in the divisions now. There's a lot of good fighters from Strikeforce, such as Gilbert Melendez, their lightweight champ, who will really liven things up when they start fighting in the UFC.
Do you think he's a future UFC champ?
He could well be. Melendez is a big lightweight, he's very aggressive, he's got good wrestling, striking and jiu jitsu and he comes from a good camp, so I definitely see him rocking the boat. When BJ Penn was king of the lightweight division, it seemed as if everybody else was a level below him, but now I don't think there's anybody in the division who stands head and shoulders above everybody else. It's similar to how the light heavyweight division was before Jon Jones stepped in.

Frankie Edgar and Gray Maynard were supposed to be fighting at UFC 130 for Edgar's lightweight championship belt. That's been postponed now, but it will happen eventually. How do you see that fight going?
I like both guys. I love Edgar's attitude. After their last fight he took such a beating in the first round that you kind of counted him out, but he came back like that first round never happened. He works hard, he sticks to his strength – he's a little terrier. Maynard's another good fighter, really strong, with great wrestling, and he's a good boxer. Last time Gray went out for the kill in the first round and kind of wore himself out, but obviously he's got the power to really hurt Edgar and next time he'll probably pace himself a bit better. I'm putting my money on Gray.

The past year has seen a couple of British guys fighting in title bouts, such as your Rough House team-mates Hardy in the UFC and Daley in Strikeforce. How far off having a British champion in one of the big organisations do you think we are ?
I definitely think our top fighters can hang with the best in the world. There's a lot of good guys coming through from the UK and we're only going to get better. I thought we were going to do it with Pauly [who took on Nick Diaz for the Strikeforce welterweight title in April 2011] but Diaz is a tough guy and he did well – he's a champion for good reason. I don't think we're too far off though. In the next couple of years I reckon we'll have a UK champ in either the UFC or Strikeforce.
UFC Hall of Famer Chuck Liddell is one of our guest experts in the next issue of Men's Fitness magazine – July 2011. Subscribe to the magazine to make sure you don't miss it.
Sign up for workout ideas, training advice, reviews of the latest gear and more.
Nick Hutchings worked for Men's Fitness UK, which predated, and then shared a website with, Coach. Nick worked as digital editor from 2008 to 2011, head of content until 2014, and finally editor-in-chief until 2015.