Brad Pickett speaks to MF
British UFC bantamweight Brad Pickett on his frustrating injury and how to beat bantamweight champ Dominick Cruz.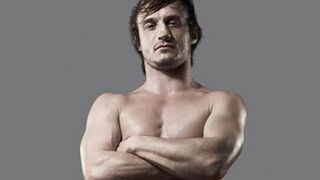 (Image credit: Unknown)
You were set to make your UFC debut at UFC 130 in May against Miguel Torres but had to pull out through injury. So how's the recovery going?
Slow. I've herniated a disc in my spine and it is getting better but not at the rate I would like it to. When I'm injured I want it to heal up quick and get back in the gym, but this one's being really slow because there's really annoying niggly hitches.
Are you back in full training?
No, not full training. I'm training but I'm doing different exercises: I've started doing karate, I've been swimming a lot. A bit of pad work is all the fighting-related training I have been able to do.
If you'd beaten Miguel Torres that would have put you firmly in the title picture. How do you view the pecking order in your division?
I'm annoyed I got injured – well, I'm more than annoyed, I'm really gutted. I could have beaten him, because I knew that there were a lot of holes in Miguel's style and I knew that I could exploit them with mine. My style is a horrible match-up for him and as soon as they announced he was going to fight Demetrius Johnson I knew Johnson was going to win because he has the same sort of style. But also, I've beaten Demetrius Johnson, so I was annoyed because now he's got that scalp [of Torres] and I would have liked to have had that scalp. I would still love to fight Torres, but there's not a lot for me to gain from it because a guy I've beaten just beat him.
So if Demetrius Johnson is considered for a title bout against Dominick Cruz, you'd come into the picture too because you've already beaten him.
Exactly. They could say, 'Oh, he beat him a long time ago', but it was only year ago [at WEC 48 in April 2010] so it's not really that far off. And he's only had three fights since, it's not like he's beaten loads of other guys.
How do you think a fight between you and Cruz would go down?
I honestly believe that out of the top ten guys, I would have one of the better chances of beating him. He dances around a lot, he moves a lot, he's hard to hit and he's got brilliant conditioning so I don't think anyone's going to beat him by decision – to beat him you're gonna need to knock him out. And I believe I have more power than most of the people in the top ten and I have great chokes and submissions, which gives me a good chance.
When are you likely to make your UFC debut, given your injury?
I hope I'll be ready for October [UFC 136 is unofficially scheduled for 8th October]. I would love is to fight in the UK. I haven't fought in the UK for a long time – I've been in America since 2009 – so I believe I've got a lot more US fans than UK fans because a lot of people have just started getting into the sport and they've seen me fight in the WEC.
Even though you're yet to make your UFC debut your record is better than many of the other British UFC fighters. Do you ever feel that you're flying under the radar a bit?
Yeah, and it does get pretty disheartening at times. I'm a humble guy, I don't make too much noise but I'm not getting the recognition I believe I deserve. I am ranked number seven in the world, which is the highest UK fighter, but if you're a UFC fan from England and all you watch is UFC, you may not know me – unless you know me from the Cage Rage [Pickett fought in the Cage Rage promotion between 2004 and 2008]. It does annoy me a little bit when everyone goes on about all the other fighters. I just want to stand up and say, 'Hey, hey, what about me?' A lot of the foreign fighters go on about how no English guys have got wrestling skills, and I'm like, 'Look, believe me, I've got wrestling'. I've wrestled a lot of guys.
There's no doubt about that – some of your most impressive wins have been achieved with grappling moves, haven't they?
Yeah, on my debut in the WEC [WEC 45 in December 2009 against Kyle Dietz] I won with a Peruvian necktie, which is quite a rare move and I think has only been pulled off a few times. But I don't look to take submissions – I just take them if people give them to me. I would rather just beat someone up and break them down mentally.
The Peruvian necktie is a rare type of submission to use. Do you practise a lot of less orthodox submissions when you're training?
No, not really. I teach this move, and it's really quite simple, but as a fighter I don't do anything crazy. I work on moves that work with a high percentage and I don't take too many risks. I do the things that work for me well and I don't do too many flashy things. I just want to punch you in the head a lot!

Follow Brad Pickett on Twitter @one_punch (opens in new tab). For more interviews with and workout tips from top UFC stars, have a look araound the UFC section of our site.
Sign up for workout ideas, training advice, reviews of the latest gear and more.
Max was the head of digital content for Men's Fitness which worked alongside Coach between 2015 and 2019.