Paul 'Semtex' Daley on Tyrone Woodley and secret Strikeforce signings
MF caught up with Semtex ahead of his fight with Tyrone Woodley on 30th July.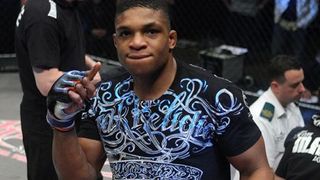 (Image credit: unknown)
Your original opponent Evangelista Santos suffered a shoulder injury and was replaced by Tyrone Woodley. Did this affect your preparation in camp?
Yes and no. I've still been working on my wrestling. A lot of the things I was working on for Santos will make my game more effective, regardless of what kind of opponent I'm facing. Without giving away too much about my gameplan, I'm looking to be more direct with my striking and my punch placement.
Woodley is unbeaten. Will anyone he's fought so far have prepared him for fighting you?
I'm going to be something he's never faced before and it's going to be a big shock. Even though he's older than me he's quite young in his MMA career. I think he's expecting less from me than I'm actually going to bring and it's going to be his downfall.
Josh Koscheck was the last wrestler you fought with comparable skills to Woodley and he used them to take you down and neutralise you on the ground. What will you do to stop that from happening this time?
I've made improvements since that fight and I work specifically to counter that kind of style in every training camp now so I can avoid being put in that situation again. The Koscheck fight was boring and he controlled me from the top, but I think people overlook some of the good defensive work I put in stuffing two or three of his single leg attempts, escaping from a rear naked choke attempt and getting up off my back just before the 'phantom knee' incident. [Koscheck accused Daley of hitting him with an illegal knee and Daley denied it. TV pictures seemed to vindicate Daley.] But it's OK with me if my opponents are overconfident.
Now that former Strikeforce welterweight champion Nick Diaz has vacated the title to return to the UFC and challenge Georges St-Pierre, do you think a win over Woodley would earn you a shot at the vacant belt?
I have to fight for the title, it's the only fight that makes sense, but the question is who against? After I take out Woodley there aren't any other contenders. [UFC president] Dana White has hinted that they will be sending across some of the UFC welterweights and [Strikeforce CEO] Scott Coker has hinted at a 'secret signing', which hasn't been announced yet.
Who could you see coming across from the UFC to fill that role and challenge you for the belt?
I'm guessing it would have to be an ex-top contender or a former champion from the welterweight division, but there's not many of them who Dana would be comfortable letting go, even though he owns both promotions [through Zuffa]. It could be a former champion like Matt Serra, who has a win over GSP and has coached on the Ultimate Fighter reality show, someone who has been in the limelight but has faded into the background of late.
Your Rough House team-mate Dan Hardy fits those criteria and is riding a three-fight losing streak into his bout with Chris Lytle at UFC Live 5 next month. Would you consider fighting Hardy for the title if Dana White tried to move him across?
No I wouldn't fight Dan and I don't think a situation would arise where I would have to. If Dan wins against Lytle he'll keep fighting in the UFC and if he loses he'll be out of the Zuffa umbrella. I don't think Dana meant that he'll let UFC fighters with three or four back-to-back losses come across to Strikeforce to try and save their careers. I think he was referring to guys who have been in the limelight but for whatever reason they've been inactive recently or there aren't any fights for them in the UFC that make sense right now.
How much interaction have you or your manager had with Zuffa, the UFC's parent company, since it acquired Strikeforce?
I would say it's a behind-the-scenes merger at the moment. As far as I'm aware Scott Coker is the only Strikeforce staff member still standing and everybody else has been replaced with the same people I was dealing with when I was in the UFC. The communication between those people and my manager is still OK.
After your loss to Koscheck, White said you would never fight in the UFC again. Have any attempts been made at reconciliation since the acquisition?
At the end of the day I'm just here to do my job, but someone who has come out of the darkness recently is [Zuffa CEO] Lorenzo Fertitta. I don't know what's behind it, but he goes out of his way to say hello to me and he came to my dressing room to do so before the Nick Diaz fight. Obviously he's going to side with Dana, but he's amicable about my situation and he still rates me as a fighter and an entertainer.
Who would you pick to win in the upcoming fight between Nick Diaz and Georges St-Pierre?
GSP is going to win that fight. Diaz doesn't have the one-punch knockout power to hurt him, but the cumulative power of his punches will make GSP take him down. Diaz has great submissions, but I don't see him catching GSP with one. There's various ways the fight could go, but I think GSP wins all of them, most likely by a decision or a TKO cut stoppage. Diaz cuts really easily – when I fought him I landed a really light, glancing elbow while I was in his guard and it opened up a cut under his eye.
Diaz is known for being a deceptively powerful puncher – did he surprise you during your fight?
It's not really the power of his punches, it's how quickly they come at you. You've already been hit by the second punch before you've had time to recover from the first one. It's a numbers game. He'll never have the power to knock you out cold, but if he lands enough consecutive punches you'll be on unsteady legs, diving to the floor to get out of the way like I was.
Your fight was stopped with seconds to go in the first round. Considering you weren't out cold, do you think it should have been allowed to continue for longer?
I think it was stopped early. If Cheick Kongo is allowed to continue when he's out cold against Pat Barry and come back to knock him out [at UFC Live in June], I should be allowed to hang on till the end of the round against Nick Diaz. I think [referee] John McCarthy would look back and admit that he should've given me that extra time to recover and come back out for the second round. Everyone makes bad decisions and I think that was one of his.
There's been a lot of publicity recently surrounding UFC fighters failing drugs tests because they're undertaking testosterone replacement therapy. Where do you stand on the issue?
I think it's a bunch of BS. I think it's just a loophole and fighters are always looking for loopholes. Anything that speeds up your recovery or increases your strength above that of a clean fighter gives you an unfair advantage and is a form of cheating. Also, the US healthcare system is private and money talks. If a doctor's struggling to make his monthly payments on his million-dollar house and he's got a UFC fighter who's willing to pay for these treatments then he's going to do it, because it's just a signature for him. In the UK there's no way that would happen.
For more articles with top UFC stars, subscribe to the magazine. We'll sort you out with five issues for £5 (opens in new tab).
Sign up for workout ideas, training advice, reviews of the latest gear and more.
Coach is a health and fitness title. This byline is used for posting sponsored content, book extracts and the like. It is also used as a placeholder for articles published a long time ago when the original author is unclear. You can find out more about this publication and find the contact details of the editorial team on the About Us page.