Michael Bisping on how to beat Anderson Silva
UFC star Michael Bisping on pressuring Anderson Silva, how to coach for TV, this weekend's UFC 135 showdown.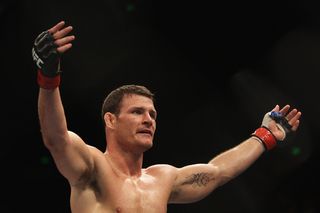 (Image credit: Unknown)
You've just finished coaching duties on season 14 of The Ultimate Fighter, which will be shown on FX in the UK from 22nd September. How did it go?
It went really well. Obviously the other coach is Jason 'Mayhem' Miller who's quite a colourful personality so it was entertaining. This season there's lots of great reality. The fights were incredible. They were crazy. I'm not just hyping it, there were some incredible knockouts, some amazing athleticism. It's a good season.

How would you describe Miller to UK fans who might not have seen him fight?
Some guys will know Miller from his MTV show [Bully Beatdown] – I think it got axed, but he doesn't like to mention that. He's a crazy personality, but he's a very good fighter. He's been around a long time and he's very dangerous – he's got good submissions, he's very tough, he always comes in great shape, he's never been knocked out… he's a tough son of a bitch. But I feel I match up well with him. A few things made me want to kick his arse, and I can't wait to get the opportunity.

You've been on The Ultimate Fighter as a contestant, winning season three, and a coach before. What did you learn from those experiences?
On season nine [US v UK, when Bisping coached the UK team] I think I did a good job, because three of the four finalists were from my team. I got a lot of personal backlash because certain people - mostly Americans - thought I was too cocky. But I was doing my job, I wanted people to win fights. I know more than anybody what a huge opportunity The Ultimate Fighter is. I thought I did a good job.
Who did you bring in as coaches?
I brought in a good friend of mine, Tiki Ghosn, who people will recognise from Rampage's season [season ten, Heavyweights]. He's been running a gym in Huntington Beach for more than ten years. I brought in a guy called Brady Fink who's a fantastic jiu jitsu coach. I've got 'Razor' Rob McCullough, and Zoran Dubaic and Sean O'Keefe to schedule the training and work on some prehab stuff. They did some conditioning as well, but mainly they know how to structure training, how to keep guys in shape.

We've always watched those workout montages and wondered whether you can affect someone's cardio over the length of the show...
That's right. You can't change them too much. You can nurture them to a certain degree. I can push them a certain way, but I can't change who they are. If they've got crap cardio I can't change it. If they're weak I can't make them strong, but we can push them in the right direction. We can certainly focus on their weaknesses.

Anderson Silva just put on a phenomenal performance at UFC 134 to defend his middleweight title against Yushin Okami. Can you see any gaps in his prowess?
No, I can't, to be honest. I just don't look at him and see weaknesses – he's an amazing fighter. What I do know is that I would put on a better fight than these other pussies at 185 [lb/84kg, the middleweight limit] have been putting on. They haven't even been fighting him – they're admiring him and giving him too much respect. I was watching the Okami fight and there was one point where he was just standing there, frozen, doing nothing. You've got to get in there, rough him up and let him know he's in a fight. You can't get in a technical sparring match with him. Chael Sonnen set the template for beating him [although Silva came back to win by submission at UFC 117].
You were supposed to fight Sonnen a while ago. Is that a match you're still interested in?
Chael Sonnen and Brian Stann are in a fight that's supposed to be a number one middleweight contenders fight, which I find ludicrous, frankly. Sonnen just lost the Silva fight and tapped out. Brian Stann's making a lot of noise, but his last win [over Chris Leben at UFC 125] was against a guy I beat quite convincingly three years ago. [More recently Stann beat Jorge Garcia at UFC 130.]

You'll be fighting Miller at the end of the season of The Ultimate Fighter. What's your prediction?
I think he's going to try to take me down and submit me, and I'll get up and smash his head in – KO. If he's very fortunate he'll make it to the end, but he's going to look a mess.

Do you have a prediction for Jon Jones vs Rampage Jackson at UFC 135 this Saturday?
Yeah. Rampage is a beast, he's very motivated, he's lived in the gym in Denver for this fight. Jon Jones is incredible, but I think he's met his match in Rampage. A determined, focused, switched-on Rampage is a very hard man to meet, and that's what Jones is going to be facing. And obviously Rampage is a Wolfslair team-mate, so I have to say him or I'll get a slap!

For more interviews with top MMA fighters and coaches, subscribe to Men's Fitness. We'll give you five issues for £5. To see one of Bisping's conditioning circuits, click here.
Sign up for workout ideas, training advice, reviews of the latest gear and more.
From 2008 to 2018, Joel worked for Men's Fitness, which predated, and then shared a website with, Coach. Though he spent years running the hills of Bath, he's since ditched his trainers for a succession of Converse high-tops, since they're better suited to his love of pulling vans, lifting cars, and hefting logs in a succession of strongman competitions.