UFC Undisputed 3 UFC 143 prediction
We used the new UFC game - Undisputed 3 - to predict what would happen during the headline bout at UFC 143.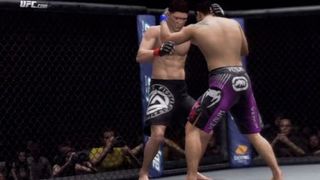 (Image credit: Unknown)
This weekend at UFC 143 Nick Diaz and Carlos Condit will be fighting for the UFC welterweight interim championship. The winner will take on injured champion George St-Pierre when he has recovered from the nasty knee injury that's kept him out of the cage for the past few months – so there simply isn't a more important fight in the division right now.
UFC 143 simulation battle
We watched the UFC Undisputed 3 fight simulation to see what might happen and it threw up some pretty interesting results. Diaz, who's considered to be one of the best boxers in MMA and has a black belt in BJJ, won by submission in 7 out of 25 simulation matches and TKOed Condit with strikes to the body in one match. Condit, who's a slick all-rounder with considerable knockout power won one match with leg kicks. And testament to the incredible cardio fitness of both men is that they threw a staggering 6,675 punches in 25 matches.
If you pick up a copy of UFC Undisputed 3, not only will you get to re-enact this mouth-watering bout, you can also take on the mighty GSP or one of the other 150+ playable characters in the game. But it's not just the roster that's impressive – with scarily realist graphics, an innovative fighter control system and a Pride mode, which includes rules, rings and fighters from Japan's most successful MMA promotion The Pride Fighting Championships, UFC Undisputed 3 is the best fighting game on the block.
What's going to happen this weekend
Diaz is a different beast to any Condit has faced before – he's a better boxer, has a better chin and more heart. Given both men's submission skills, we do think it will go to the floor but we're expecting Diaz to finish it on the feet by TKOing Condit with a flurry of punches in the second. No matter what the outcome, if we get an explosive first round like we did between Diaz and Paul Daley when the two met in Strikeforce last year, we'll be more than happy. Roll on Saturday night.
For more information about UFC Undisputed 3, go to ufcundisputed.com (opens in new tab).
Sign up for workout ideas, training advice, reviews of the latest gear and more.
Nick Hutchings worked for Men's Fitness UK, which predated, and then shared a website with, Coach. Nick worked as digital editor from 2008 to 2011, head of content until 2014, and finally editor-in-chief until 2015.