Alessio Sakara UFC interview
UFC middleweight fighter Alessio Sakara talks about vineyards, Roman history and why he turned his back on boxing.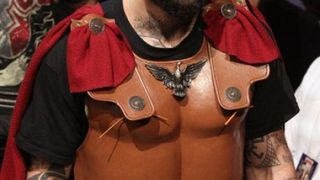 (Image credit: Unknown)
How did you get into MMA growing up?
My uncle showed me a VHS of the UFC when I was 19 years old. I was a boxer at the time, and I was just amazed by what I saw. I suddenly understood what it meant to be a complete fighter. In the following four months, I sold my motorbike and went to train MMA in Brazil.
Who were your heroes as a child?
I was fond of boxing, so Rocky Marciano was my hero. As I grew up I began reading books about Rome's history, and I learnt about great leaders like Julius Caesar and Marco Aurelio.
You used to box professionally - why did you choose to pursue MMA instead?
It just made me happier. My spirit was unsatisfied by boxing, because I felt constrained by the limited number of tactics you could adopt. I wanted to be a real fighter and MMA is still the only way to achieve this.
You've been fighting in the UFC for a long time. How is it different now compared with seven years ago?
The level of competition has been constantly improving. The kids starting to train now are much luckier than those of my generation. Now you can train from the beginning in gyms where you can learn MMA. In the past, you had to attend three or four gyms in separate places, to train in the different disciplines.
Where does your nickname come from?
I've always been interested in Roman history and the legions were the Roman soldiers. I'm from Rome and I travel throughout the world fighting, so I've always felt a little bit like a legionary. My surname also comes from Saqqara, which was a Roman colony in Egypt.
What do you admire most about the legions?
The ethics they had, their values: honour and faith in an ideal, which was Rome. They never gave up until their objective was reached. I have a tattoo in Latin that reads 'usque ad finem'. It means 'until the end'.
You've got a lot of tattoos…
They're all so important to me, they're my history, my values, and they describe my attitude. I have another Latin tattoo that says 'hic et nunc', which means 'here and now'.
Is it true that you also have your own vineyard?
Yes, my uncles have always been in the wine business. It interests me, but I've never had time to really get involved with it. Fighting requires sacrifice, and most of all you have to stay focused. But I still love red wine!
What's the best piece of advice you've ever been given?
Well, there have been a few, but I think the best is 'everything is commanded by intellect'. The body just follows.
Alessio Sakara will fight Brian Stann at UFC: Sweden on 14th April. For more UFC interviews and workouts, subscribe to Men's Fitness (opens in new tab).
Sign up for workout ideas, training advice, reviews of the latest gear and more.
Coach is a health and fitness title. This byline is used for posting sponsored content, book extracts and the like. It is also used as a placeholder for articles published a long time ago when the original author is unclear. You can find out more about this publication and find the contact details of the editorial team on the About Us page.