Five reasons you should buy UFC Undisputed 3
Undisputed 3 offers everything fans of the UFC could possibly hope for from an MMA title.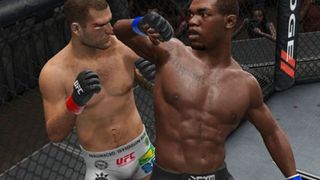 (Image credit: Unknown)
No more waiting – that's right UFC Undisputed 3 is now out and here are five reasons why you need to pop down to the shops to pick up a copy:
Action-packed gameplay
UFC Undisputed 3 lets you take control of UFC fighters like never before. As well as all your favourite characters signature moves – think Dan Henerson's overhand right, Rampage Jackson's powerbomb and Anderson Silva's front snap kick – a dynamic submission mini game gives you unprecedented influence when you take somebody down.
Hyper-realistic graphics
Glistening sweat, heaving chests, meaty bruises and splattering blood are all superbly rendered in UFC Undisputed 3. And the facial likenesses are so realistic you'd be forgiven for thinking you were controlling a real fighter during a live televised bout.
150+ characters
With more than 150 characters to play, you'll never run out of exciting match-ups to try. Us Brits are well represented by middleweight contender Michael Bisping, featherweight Ross Pearson and welterweight Dan Hardy. Want to see a Brit finally win a UFC title? Now's your chance! And once you've brought the belt back to the UK, why not play some of the exciting matches that are going to happen later this year in the UFC. You can have heavyweight champion Junior Dos Santos take on Alistair Overeem, which is taking place at UFC 146 this summer, Frankie Edgar fight Benson Henderson in advance of their upcoming fight at UFC 144 and middleweight king Anderson Silva take on ultra heel Chael Sonnen ahead of their rematch that's been slated for some time in 2012.
Gripping career mode
Once you've had all your favourite UFC fighters face off against each other, take control of a young untested fighter in career mode and have him fight his way through smaller promotions, work his ass off in training camp mini games and pick up sponsors in a bid to get signed by the UFC.
Vicious Pride mode
At one point, the Pride Fighting Championships from Japan was the biggest promotion in MMA and featured many of the marquee fighters who now ply their trade in the UFC. UFC Undisputed 3 lets you re-live the Pride era by playing in it's famous grand prix tournament (where you had to fight multiple times in one night), as well as using Pride-specific moves, such as vicious soccer kicks and knees to the head. What's more, you can fight in a Pride style ring and play as the Pride and UFC incarnations of a fighter – get Pride's wrecking machine Wandelei Silva to face off against slimmed-down UFC Wanderlei Silva and Pride's powerbombing Rampage Jackson to take on the UFC's more boxing-focused version.
For more information about UFC Undisputed 3, go to ufcundisputed.com (opens in new tab).
Sign up for workout ideas, training advice, the latest gear and more.
Coach is a health and fitness title. This byline is used for posting sponsored content, book extracts and the like. It is also used as a placeholder for articles published a long time ago when the original author is unclear. You can find out more about this publication and find the contact details of the editorial team on the About Us page.