UFC Undisputed 3 career mode
The career mode in UFC Undisputed 3 is a big reason why it's the best fighting game on the market.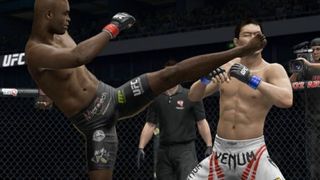 (Image credit: Unknown)
UFC Undisputed 3 features a more frenetic, action-packed career mode than any previous UFC titles. You're forced to fight more often and spend less time on training between bouts but that doesn't mean the training games suffer – every one uses Undisputed 3's innovative game play mechanics and real-life elite level MMA coaches have helped devise what you do in them.
This means that just like a real fighter, you'll be flipping tyres, sprawling onto medicine balls and more. The key is to train smart – you need to pick the right training games to develop skills that will help you defeat your next opponent.
What's more, all the old drawn out cut scenes from UFC Undisputed 2010 have been replaced with quick fire clips – called live movies – of the UFC's top fighters talking you through different stages of their career. So when you win your first fight, you might have BJ Penn telling you how he felt after his first victory in the Octagon or Chuck Liddell explaining what it felt like to get his first title shot.
You also get to train at six real-world camps, including the UK's Wolfslair Academy, where you can learn unique moves that could help you win your fights. Earn enough victories and you'll be invited to become a fully-fledged member of the camp and will have its trainers in your corner during bouts.
If your fighter does well enough to earn a slot on the pay-per-view events – the biggest shows the UFC puts on, you'll be invited over to Japan to take part in a Pride Fighting Championships tournament, where you can use loads of cool Pride-specific moves, such as soccer kicks to the head.
Best of all is that the game lets you re-write UFC history by working through career mode with a fighter who's actually on the UFC roster. And that means we can finally have a British UFC champion. What could be better than that?
For more about UFC game Undisputed 3, click here. And have a butchers at this cracking career mode trailer.
Sign up for workout ideas, training advice, reviews of the latest gear and more.
Nick Hutchings worked for Men's Fitness UK, which predated, and then shared a website with, Coach. Nick worked as digital editor from 2008 to 2011, head of content until 2014, and finally editor-in-chief until 2015.