MF meets UFC fighter Conor McGregor
Conor McGregor will become the first Irish featherweight in the UFC when he makes his debut at UFC on Fuel TV: Mousasi vs Latifi on Saturday. We caught up with him before the bout.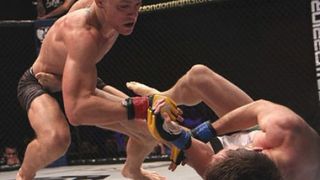 (Image credit: Unknown)
How different is a UFC fight week to one with a smaller promotion?
No different in terms of how it makes you feel – it's just another contest so it's the same kind of nerves. What is different is how professional the set-up is. One small example would be how they warn you not to take painkillers other than Tylenol [paracetamol] because it could affect performance and testing.
Are you expecting your opponent Marcus Brimage to be much tougher than your previous opponents?
Everyone keeps saying it's a step up and I've only fought nobodies, but I'm not really thinking about it like that. If you think about something as a step up or down then that's what it becomes. I just see it as another contest – and more money.
You sound pretty calm about it – aren't you excited about making your UFC debut?
I'm definitely excited but I'm trying to stay calm and not get overexcited. Every mixed martial artist wants to get here and now I am. I want to represent my country with pride and steal the show.
What have you had to do in terms of weight cutting during fight week?
Most guys have to cut to get to light or featherweight but I'm well on track for the weigh-ins. I've come here in shape – I'm not messing about.
In the long term, do you plan to stay in Ireland to train or is a permanent move to one of the top teams in the US on the cards?
I'll definitely travel around but I'm not moving to America permanently. The answer isn't out there. Packing up camp and leaving your coach means things might not be going well and you've got the wrong frame of mind. But travelling around for short periods of time to learn is a good thing. Straight after the fight I'm going to Boston for ten days, then New York for a bit, then back to Dublin, then to Iceland. But I'm from Dublin, I live and train here and always will.
You've been training with Icelandic UFC welterweight Gunnar Nelson – how has that affected your game?
He's an inspiring man and I've taken a lot from his mental approach to the game – he's got a strong, calm mentality. He's also a great training partner and great friend. I'm heading to Boston with him and my coach.
How important is developing technique and skill compared with strength and fitness?
Massively. I'd say 90% of UFC fighters are addicted to strength and conditioning and I think they put too much emphasis on it. It's vital but you shouldn't be doing it at the expense of sparring and rolling.
Your striking is unconventional and has been compared to Anderson Silva's. How do you work on this unorthodox skill?
I watch a lot of combat sports and if I see something I like, I play around with it in the gym and try to incorporate it into my skill set. I love Anderson Silva and work on some of the stuff I see him do in fights – his spontaneity and adaptability are huge factors in him being such a long-reigning champion.
There's an MTV documentary about your career as a mixed martial artist and in it there's footage of walls in your house having been destroyed by kicks. What's that all about?
I'm always kicking or punching the walls and, over the years, I've broken a lot of lamps and stuff. Me Ma doesn't like it – I was always getting in trouble for destroying furniture. Once I was in the bathroom shadowboxing and I threw a punch and hit the glass around the light and smashed it all over the floor. That kind of thing is a regular occurrence at ours.

UFC Stockholm 2013 will be shown on ESPN from 9pm on Saturday 6th April.
Sign up for workout ideas, training advice, reviews of the latest gear and more.
Nick Hutchings worked for Men's Fitness UK, which predated, and then shared a website with, Coach. Nick worked as digital editor from 2008 to 2011, head of content until 2014, and finally editor-in-chief until 2015.