MF and Rotary do the FitBrit
We decided to put our money where our mouth is and take on the challenge we're encouraging everyone in the country to do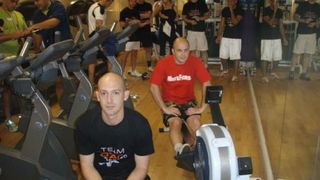 (Image credit: Unknown)
On 30th July, six of us from Men's Fitness went down to Fitness First on Kingly Street in central London to do the FitBrit Challenge, the CrossFit-themed fitness test we're running at Fitness First gyms across the country.

The challenge is free and is open to everyone over the age of 16. Both sexes have to complete the same exercises but the number and distances differ for some drills. The aim of the challenge is to complete all seven exercises as quickly as possible. Here's how it breaks down:

Rowing
Men – 500 metres / Level 10
Women – 400 metres / Level 10

Dumb-bell to curl press
Men – 20 reps / 5kg each dumb-bell
Women – 20 reps / 3kg each dumb-bell

Burpees
Men – 20 reps
Women – 15 reps

Bike
Both 3km

Dumb-bell chest press
Men – 30 reps / 10kg each dumb-bell
Women – 30 reps / 5kg each dumb-bell

Box jumps
Men – 30 reps
Women – 20 reps

Dumb-bell squats
Men – 30 reps / 10kg each dumb-bell
Women – 30 reps / 5kg each dumb-bell

Run
Men – 1 kilometre / 0˚ incline
Women – 800 metres / 0˚ incline
Normally it's just you against the clock, but this was head to head because we'd been asked to take on a team from FitBrit Challenge sponsor Rotary Watches. Just doing the FitBrit Challenge is pretty daunting, but competing against other people makes it even more intimidating. And when we found the other team's blogs telling of how they'd been training for it, it was all we could do to hold on to our breakfast.

The good thing about the FitBrit Challenge is that it's so tough that once we started doing it, we stopped worrying about how our Rotary rivals were getting on and focused instead on how to deal with the pain we were suffering during each exercise. And there was a lot to that.

When it was over, each team was given an overall time by adding the two best men's times and the best woman's. It was a close-run thing, with Rotary putting up a good score of 45min 43sec, but MF managed the victory with 41min dead.

The best individual performance came from MF's Lucy Miller, who did the challenge in an incredible 12min 3secs. That put her fourth in the national rankings and makes her a shoo-in for the final in October. MF digital editor Nick Hutchings posted the best male time, completing the challenge in 13mins 53secs. Abbi Holland and Kevin Harling from Rotary also put in standout performances, finishing in 13min 24secs and 15min 1sec respectively.
Think you could do better than we did? Register for the FitBrit Challenge today.

Sign up for workout ideas, training advice, reviews of the latest gear and more.
Coach is a health and fitness title. This byline is used for posting sponsored content, book extracts and the like. It is also used as a placeholder for articles published a long time ago when the original author is unclear. You can find out more about this publication and find the contact details of the editorial team on the About Us page.