Carl Froch on hitting Glen Johnson with a mallet
MF talks to Nottingham's Carl Froch as he prepares to defend his super middleweight world title in the Super Six tournament.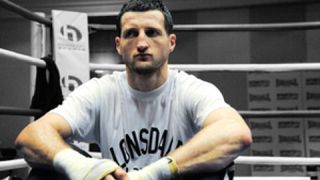 (Image credit: unknown)
Following your epic battle with Mikkel Kessler and then the dominant victory over Arthur Abraham, in which you regained your WBC super middleweight title, are you finally getting the respect you deserve?
It's definitely coming. Everyone's having a look at this guy they call The Cobra! It's different for heavyweight boxers like David Haye because, unlike any other weight division, you get column inches just for being a heavyweight. At my weight division you have to be involved in big fights which capture the public's imagination. You have to be shown on a TV network where people can see it across the nation. I've not had the British TV exposure in my last few fights to give me that crossover. But now the tournament I'm in, the Super Six, is the biggest tournament in the world. If I win against Glen Johnson [on 4th June in Atlantic City, USA] I'm in the final against the winner of Abraham vs Andre Ward.
You lost to Kessler on a unanimous judges' decision, but general opinion was that it was incredibly close and you might have won if it hadn't been in Kessler's home country. Are you pushing for a rematch with him?
Kessler is mandatory for the belt – he's got a right to fight the champion for his old belt back – and a rematch is something I'm definitely interested in. There's nothing more boring than someone's excuse of why they lost the fight, but I'm going to tell you anyway. There was the volcanic ash cloud that kicked off in Iceland. My flight got cancelled eight days before the fight, on the Friday, and then cancelled again on the Saturday, Sunday, Monday and Tuesday. I had given myself a week to go out to Denmark and acclimatise. While I was waiting my weight went up a little bit. By the Wednesday I thought the fight was off. Then the phone rang and they said they were sending a private jet on Wednesday afternoon and I had to get on it. So I flew out there late, two days before the fight, I was very tired and I ended up having a fight with Kessler for 12 rounds. It was a great fight, a toe-to-toe battle, a tournament. It could have gone either way. But I know for a fact that I wasn't the full me. I was never going to win the fight on points. It was over in Denmark. All the judges were leaning towards Kessler as they do in boxing when it's a home fight. When I fight Kessler again I'll be in better shape because the chances of me being delayed by a volcanic ash cloud again are minimal. A rematch is a fight I relish and one that I know will not go the distance.
How do you think your next opponent, Glen Johnson, compares in skill with Kessler?
Kessler has a good jab, good distance and good timing, and you wouldn't put Johnson in the same skill category as Kessler. Kessler's the only man to give Joe Calzaghe trouble in his whole career. But what Johnson has got instead of the skill is the experience and ringcraft. He's very persistent and tough, and he's a puncher as well. He has a few knockout wins on his record and he's only lost to the best. He's mixed it with the best – you can't take this guy lightly. But he's 42 years old – that's got to be a weakness, although he's not weak as in he can't take a shot. He's maybe limited skill-wise, but he's got such a hard head and he's so tough, he doesn't need the technical ability so much. He's so tough, I think you could hit him with a mallet and he'd be OK. But I'm looking to do a boxing masterclass on him, moving, keeping out of his way. I'm 33, I'm fit, strong, at the top of my game, in my peak. And I'm flying to New York on 17th May so I'll have three weeks to warm up. Plenty of time. And I'm on my weight which is a big advantage.
Who would you particularly like to fight outside of the Super Six guys?
[WBO light heavyweight champ] Jean Pascal at light heavyweight is a fight I'd relish. It gives him a chance to redeem himself for the blemish on his record which is me [Froch inflicted the only defeat of Pascal's career in 2008]. It will give me the opportunity to fight for a light heavyweight title. There's also the IBF super middleweight champion Lucian Bute. People consider him the best in the world but that's ridiculous because he's not fought anyone to warrant that number one spot. It's pathetic really.
At domestic level you've got [super middleweights] George Groves and James DeGale. They'll be coming through. [The two are scheduled to meet on 21st May.] You've got Nathan Cleverly at light heavyweight, who's got to take on Jürgen Brähmer for a world title. I know I can step up to light heavyweight and be a real formidable force at that weight. The options are endless.
What are your predictions for the David Haye vs Wladimir Klitschko fight?
I fancy Haye to put it on Klitschko early and catch him sweet early on in the first six rounds. If it goes past six, then provided David's fit, which I'm sure he is because he takes his fitness very seriously, then David can do the business and get the points win. But the longer the fight goes on, the more it leans towards Klitschko because he's big and strong and rangy, and he'll be able to handle the length of the fight better because of the sheer size of him. David will struggle to go 12 with Klitschko leaning on him. If David sticks it on him really early and gets him out of this comfort zone, if he catches him, it'll be over. And David Haye can do it because he can punch with the best of them.
MMA's Strikeforce champion Nick Diaz might be taking on former IBF super middleweight champion Jeff Lacy in boxing. How do you see Diaz's chances there?
That'll be interesting. He might end up getting disqualified if he tries to break his arm or something. Knock him to the ground and start elbow-smashing him.
Do you think it's a good thing for MMA fighters to move into pro boxing?
I don't think it's something that will happen often. They're totally different disciplines. It's like getting someone who does karate or judo to do boxing. This Diaz guy might not have the success he deserves in MMA or not be earning the dough. Maybe he thinks he could make a few quid in boxing – I don't know what the story is there. If that's the case, I don't see anything against it. If he can fight, if he can punch and box, then why not have a go?
When you were younger did you ever train in martial arts?
I did karate from the age of nine to 12. I got my orange belt or something. I didn't really enjoy it because it wasn't competitive enough. It was all catching: you train a lot, and you do flexibility, but at that level you don't really fight a lot. I remember a girl kicked me right between the legs and flattened me, and that really did me in. A kick straight into my nuts and I was on the floor, I was crying. It was a straight kick, right on the money. I don't think I ever went back. I think that was my last ever session. It done me. I was inflamed down there. I was in pain. I had to go to the hospital and have them checked.
Your girlfriend Rachael did a great job of cheering you on during your last fight. Could you hear her above the crowd?
The more well practised you become, the less you think about the jab with the right hand or whereabouts you are in the ring, and the more you're aware of what's going on around the ring. Certainly, later on in my career, I've been more relaxed and I've been thinking, 'OK, where's my mum and my dad? Where's Rachael? Oh, there she is. Oh yeah, I can hear her.' In my last couple of fights I could hear my brother shouting, 'Come on bro!' and I could hear Rachel screaming, 'Come on Carl!'
People say you need to block out what's happening outside the ring, but you can't do that. You're not hypnotised, are you? I can hear my corner man Rob McCracken the most. I do consciously listen to Rob. Actually in my last fight I could hear David Haye shouting 'Body shot! Right onto the body, he's wide open!' He was right at ringside and he was shouting instructions. Really good ones.

Carl Froch is sponsored by Lonsdale, the boxing champion's choice for clothing and equipment for over 50 years. For more interviews with top fighters, subscribe to Men's Fitness magazine.
Sign up for workout ideas, training advice, reviews of the latest gear and more.