Oli Thompson BAMMA 15 Interview
We speak to former World's Strongest Man competitor-turned MMA fighter Oli Thompson ahead of his fight at BAMMA 15 this weekend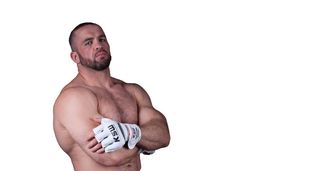 (Image credit: Unknown )
What did you learn from your two fights in the UFC?
I was quite new to MMA when I fought in the UFC, and there are lots of different parts of my skillset that have developed since then. My first fight against Shawn Jordan was good, I just got my strategy wrong, and for my second I had a problem outside of fighting that affected my mindset going in. It's no disrespect to Phil De Fries, my opponent, but anyone would have beaten me that day. So I didn't really learn too much, other than how important is it to organise my life properly to allow me to fight at my full potential. I work part-time to supplement my income from fighting, which is difficult sometimes because fighting is a full-time job in itself.
Is it difficult trying to maintain that balance?
It is, but I think you can gain a lot from exploring your talents and pushing yourself, although you've got to be honest with yourself about how far you can go. I've had some amazing times travelling around the world and competing, first as a strongman and now as a fighter. I might not be as financially secure as I could be, but I'm the kind of person who lives life for the experiences.
What does a typical week of training look like?
I'm not fortunate enough to have one big MMA gym that covers everything on my doorstep, so I have to travel to different places to train the different aspects of it. That makes it a lot more complicated to organise and co-ordinate, and it's a pain in the arse sometimes, but it's how I make my life work. What exactly I do every week depends on how far out I am from a fight. In the final four weeks before I fight I'll do one long run and two sprint sessions a week, three Brazilian jiu jitsu sessions a week, two MMA sparring sessions a week, one boxing sparring session a week, two boxing technique sessions a week and two Muay Thai technique sessions a week, plus up to three wrestling sessions. I basically train every day. It's a very busy schedule!
You've competed at the elite level in two gruelling sports. What kind of mindset does that require?
I'm ultra-competitive, and I hate losing or being average at things. Also, I like throwing myself in at the deep end and finding things out the hard way. I love the adrenaline rush of competition – it's an amazing experience. In my head I always believe that one-to-one I can compete with any human being one way or another.
Do you use any strongman exercises in your MMA conditioning sessions?
MMA fighters can gain a lot from adding strongman moves like farmer's walks and tyre flips to their strength and conditioning sessions, because they're great for building core stability and grip. Plus a lot of guys who come from martial arts backgrounds haven't developed themselves physically as much as they could. Personally I don't do too much of it, as I already have a very good conditioning base in that area.
What were your personal bests as a strongman?
My best deadlift in the gym was 410kg. I won my group at World's Strongest Man on the squat in 2008, which was six or seven squats in a row with the last one weighing around 385kg. My best log press was 195kg, which was a British that was only recently equalled by my friend Laurence Shahlaei.
How close can you get to those lifts now?
Not very close!
How heavy are you now compared to in your strongman days?
I can fight as high as 112kg and as low as 103kg, depending on the opponent and the organisation. When I was competing as a strongman, I weighed around 146kg, but you can't fight at that weight, it puts too much strain on your body.
You're fighting Gzim Selmani at BAMMA 15 this Saturday. What's the biggest threat that he poses?
He's a very young guy, a big guy, who trains with a good team. He's got everything to gain and not a lot to lose, so he's going to be very high-spirited, which could be dangerous for me.
He's relatively inexperienced. Will you try to pressure him early?
I always like to pressure my opponents, because there aren't many heavyweights who can keep the same pace as me for 15 minutes. A lot of heavyweights say, 'I've been sparring, I can go 15 minutes' but that's not the point – it's how you go 15 minutes. You've got to train like you're fighting a guy like [former UFC lightweight champion] Frankie Edgar, not somebody who's going to get tired or slow down.
What are your plans for the rest of the year?
I'm fighting the former World's Strongest Man, Mariusz Pudzianowski, in the KSW promotion in Poland in May, which is going to be pretty epic. But for now I'm totally focused on my fight in BAMMA. The BAMMA heavyweight title is actually vacant at the moment, so once I've dealt with Selmani, I want my next fight to be for the belt, hopefully before the end of the year.
Oli Thompson will fight Gzim Selmani in the headline bout at BAMMA 15 at London's Copper Box Arena on Saturday 5th April.
BAMMA is brought to you in association with Lonsdale and Sports Direct
Sign up for workout ideas, training advice, reviews of the latest gear and more.
Nick Hutchings worked for Men's Fitness UK, which predated, and then shared a website with, Coach. Nick worked as digital editor from 2008 to 2011, head of content until 2014, and finally editor-in-chief until 2015.