UFC welterweight Johny Hendricks on a Chris Weidman super fight
We caught up with UFC welterweight champ Johny Hendricks to talk fighting Chris Weidman, beards and rearing chickens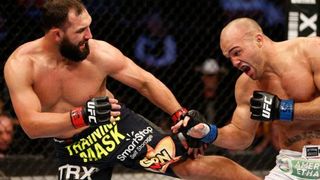 (Image credit: Unknown)
MF: What did you make of UFC middleweight champ Chris Weidman saying he wasn't that interested in a cross-division super fight with you further down the line because he's physically too big for you?
JH: Everybody I fight is bigger than me – I'm one of the shorter guys in my division. Me expressing an interest in fighting him is down to the likelihood that I'll find it harder to cut to the 77kg welterweight fighting weight as I get older – I walk around at about 84kg, the middleweight fighting weight – so it seems likely I'll end up plying my trade in his division. That's why I threw it out there. I have to get through a lot of good guys in the welterweight division first though so it's not a big focus for me right now.
MF: You've got one-punch knockout power. Is that down to technique or something you've developed in the gym?
JH: It's a combination of both. God blessed me with a lot of raw power but it's also due to years of wrestling (Hendrix was a double NCAA wrestling champion), which is all about being explosive. The other advantage of my wrestling background is that if I miss with a punch I can quickly transition into a takedown.
MF: You go clean-shaven between camps but grow a full beard when you start training for a fight. What's up with that?
JH: The first day I start a training camp I shave, then let my beard grow out for the rest of time I'm getting ready for a fight. It serves as a visual reminder that I'm working towards a goal, and that I need to train hard and stay on point with my diet. After the fight I shave, win or lose, to signify the hard work is done.
MF: Do you have to beat GSP – Hendricks lost during their title fight at UFC 167 in November 2013 – to feel satisfied with what you've done at welterweight?
JH: No. Don't get me wrong, if he comes back, I'd love to fight him again but I have to create a legacy that's not reliant on him.
MF: Who would you say is the hardest hitter that you've ever fought
JH: Being on the receiving end of TJ Grant knees was pretty painful. And Josh Koscheck and Robbie Lawler punch with real power – the welterweight division has some big hitters right now.
MF: Have you got a favourite set-up for your famous left hook?
JH: No. I just throw it, and combinations leading into it, spontaneously during a fight. In the Octagon you'll have more success by being flexible and letting your body react to a situation rather than clinging to a pattern.
MF: Who's the biggest prospect in your team – Team Takedown?
JH: Chris Feist­ – our lightweight – is one of them. He's got great jiu-jitsu and striking and works really hard. Whatever big promotion he enters he'll do very well in.
MF: When you're on a strict diet, what's the one thing you eat that gives you real comfort?
JH: Deer steak, which is packed with protein and very tender, and eggs from the chickens I keep at home. It's amazing how different a regular egg from the grocery store and the eggs that I get at home taste. Mine are much more flavoursome – organic is the way forward.
For more information on the UFC please visit UFC.com where you can also sign up to the digital platform UFC Fight Pass and see all the action from UFC events past and present
Sign up for workout ideas, training advice, reviews of the latest gear and more.
Nick Hutchings worked for Men's Fitness UK, which predated, and then shared a website with, Coach. Nick worked as digital editor from 2008 to 2011, head of content until 2014, and finally editor-in-chief until 2015.