Anthony Joshua's Boxing Tips and Training Advice
We caught up with Olympic boxing gold medallist Anthony Joshua to get his training, life and boxing tips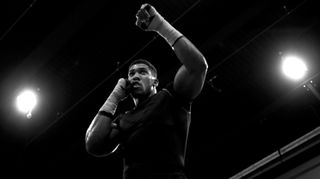 (Image credit: Unknown)
British boxing has been booming in the past few years, with contenders emerging across the weight scale. But none of them has commanded as much attention as Olympic gold medallist Anthony Joshua. We sat down with him to find out how he prepares to step in the ring and how he got his body.
I wasn't born to be a boxer. I worked at it.
I get 10 hours sleep a day and drink five litres of water.
Pay attention to your core and glutes. It's very important that you have that foundation to get as strong as possible. Being tall and long makes you easier to break. It's good to have that solidity so that when you're rotating through your punches they're coming from a place of power rather than from a place of fragility.
Warm up your glutes before you train! Take a mini resistance band and put it around your knees before doing stepping side to side.
Work your core by resting your forearms on a gym ball and have someone move it around while you try and keep balance. It's a fun exercise providing you don't mind the odd fall.
When I was about 15 I was pretty tall but I didn't have much mass behind me. The more I boxed, the more muscle I put on. I've never consciously added muscle.
My diet has helped me add power. In the past I didn't eat enough. I'd have breakfast, snack during the day and then not eat until dinner. Today, I've had two meals already and it's not even lunchtime.
Lots of people fight against their genetics but I go with what I've got. It's like an architect – they look at the design of their building and work out how much weight it can carry before they build it. The way I am was set out before I was born. I wouldn't try to change it too much. It's got me this far.
Focus on your health. From that comes the benefit of looking good.
I live the life. I don't think many people can say that. I don't drink, smoke or stay up late. I don't think other people are on it like me. They talk a good game but they don't do it. Put a camera on us for 24 hours and you'd see who the real man is.
My coach reminds me to enjoy myself. If you just live a regimented lifestyle, you'll end up being a lonely man and go crazy.
It is good to look like the full package, with a six-pack and big biceps, but it doesn't make you a great athlete.
I like athletes like Cristiano Ronaldo, Pacquiao, Cam Newton, Bo Jackson and Archie Moore. They've all got drive.
People just want to talk about what they've got nowadays. There's no substance to it. When you strip possessions away, who are you really? When you strip away titles, reputation, finance – I'm just a humble family man. That's substance.
Being modest about your physical abilities is important. It gives you the ability to know you've got more to give than people expect. If I allowed myself to think I was the man I don't think I'd have achieved as much because I'd have felt like I was already there.
Women don't care what you look like. Well, if they do you're with the wrong girl.
We're all born the same. There's nothing to say you can't achieve what the next man can.
Anthony Joshua wears Under Armour CoolSwitch technology to keep him cooler for longer. For more visit underarmour.co.uk (opens in new tab)
RECOMMENDED: Punching-Bag Workouts
For more boxing tips from Anthony Joshua, keep scrolling to read our interview with him on the eve of his title fight with Denis Bakhtov in October 2014.
Anthony Joshua: "Fight to the end, until that final bell"
When we caught up with Joshua before his title fight with Denis Bakhtov in October 2014, this is what he had to say
I'll put that down to two things. Firstly, I thing it's down to genetics. Secondly, I think that if you train hard as an athlete then you're definitely going to get lean. I pretty much walk around at the weight I compete at. I'm always training so I don't get fat between fights.
There's a lot of diets out there and a lot of science in sports now. If a heavyweight wants to trim down then they definitely can. They can look like a body builder if they want. If you train hard and diet right you'll see the results. Genetics does come into it too. I'm not saying those heavyweights who don't look in good shape aren't training hard – I just put that down to genetics.
Yeah! I haven't had fight number one yet but people are already buying tickets for fight number two and talking about it, which makes it harder for me to keep my head on number one. You never know what's going to happen in a fight. Things could be going well, but you never know… There's pressure there.
In boxing you're never going to win when it comes to that stuff. Look at Floyd Mayweather, they always say, "Oh, he's this, he's that. His opponent's no good". You can never win. You can only do your best and fight whoever's in front of you really.
No, I don't think so. I read as part of my training. I can play chess. I was playing a lot at one stage but I don't have many people to play with now. I play games in my down time after training too, which is why I came down to the Destiny launch.
It's all part of the plan. I measure it from when I was an amateur and I fought for the ABA title. So the WBC international is the professional version of the ABA championship in my mind. As I build up to bigger titles it'll reflect the GB championships, Europeans and Olympics. A world title is the Olympic medal of the professional side of the sport. I want to rack up a nice little cabinet of trophies.
He's the crème de la crème of heavyweight boxing. It was an eye-opener and showed me where I'm at. I realised I belonged in there with the best in the world. When I sparred with them I felt they brought out the best in me. They're really sharp compared with a lot of people I train with and spar with.
Keep professional and switched-on, right the way through. Land my straight shots. Then I think, "Give it one round, two rounds and I'll start breaking him down and pick him apart" and then end up knocking him out.
Losing to Magomedrasul Majidov at the World Amateur Boxing Championships in 2011 was a tough fight. But I knew I had to fight to the end, until that final bell. I know that sooner or later that bell is going to go and then I'm going just be able to relax and chill. I know that if I keep on fighting, right until that bell I'm going be fine. That's how I get through.
Hmmm, probably pancakes. I eat pretty cool most the time so I don't have some strict diet that has things like "no orange juice". I couldn't deal with that!
I'm going to whoop them. I'm going to have to. It's not that I disrespect them but I have to. Right now it's do or die.
Anthony Joshua was part of a celebrity fireteam at the UK launch of Destiny, a new videogame from Activision and Bungie. Destiny is out now on PlayStation 4, PlayStation 3, Xbox One and Xbox 360. To find out more visit destinythegame.com (opens in new tab)
Sign up for workout ideas, training advice, reviews of the latest gear and more.
Matt joined Men's Fitness in April 2014 as features writer after spending several years writing for a luxury lifestyle magazine, swapping champagne and canapés for cardio and leg days.
Matt is a keen Thai boxer and his interest in fitness took off when he made the decision to compete semi-professionally and had to get in shape. Training aside, he says the worst thing about fighting is resisting the urge to apologise all the time.
Oh, and he's still on the look out for a decent fight nickname after being told 'The Best' was reaching a little bit…
Favourite move: Any kind of squat variation
Favourite sport: MMA and Muay Thai kickboxing
Personal best: Competing in a semi-pro K1 bout
Targets: Sub-1hr 40m half marathon and winning a fight by KO
Scariest MF moment: Writing about myself in the third-person for this profile
Favourite MF website story: Spider-Man workout (opens in new tab)
Favourite trainer quote: 'Hands up, chin down' – every striking coach ever
Biggest gym crime: Avoiding the weights and sticking to the treadmill