Alfie Davis interview
MF talks to lightweight MMA fighter Alfie Davis ahead of his title fight with Makysm Matus at UCMMA 41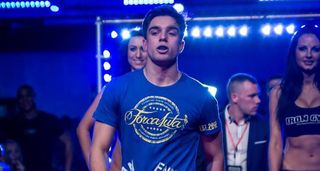 (Image credit: Unknown )
How did you first get into martial arts?
I used to love Jean-Claude Van Damme films as a kid. I must have watched Kickboxer 100 times! Off the back of that I started freestyle kickboxing at the Enfield Kickboxing Academy, where I've been training for the last 11 years. I ended up winning silver medals at the WAKO [World Association of Kickboxing Organisations] world and European championships. Then about four years ago I started training Muay Thai, and a couple of years after that I crossed over into MMA, training at Team Titan.
Why did you decide to change sports?
I felt like I'd taken kickboxing as far as I could. It's funny, because I used to watch [UCMMA predecessor] Cage Rage events back in the day and think, 'What are these nutters doing?' and now I'm one of them!
What's your MMA record?
I was 3-0 as an amateur, and I'm now 2-0 as a professional.
What was the hardest thing about making that transition?
At first the grappling was tough, and I was quite ignorant about it. I thought I could just learn to defend takedowns and make people strike with me. But in the last 18 months I've really embraced it, and it's been amazing. I'm only a blue belt in jiu jitsu, but I'm learning so much all the time. My striking is still my main tool, but my ground techniques are becoming pretty vicious too.
How have you adapted your kickboxing-specific striking techniques for MMA?
I tend to mix things up and switch between a traditional, side-on kickboxing stance and a regular Muay Thai stance. It helps me to work out my opponent's range, and it really messes with their rhythm.
What does your weekly training regime entail?
I'm studying part-time for a sports science degree - I was doing it full-time, but I switched to part-time to focus on my MMA career - so I have to fit my training in around that. I generally train four hours a day, two in the morning and two in the evening, six days a week. I spend all of my free time studying fight footage too, which is one of the best ways to learn, especially if you're watching guys who you want to emulate. I like studying MMA fighters who've come from kickboxing backgrounds like Stephen Thompson, Michael Page and Edson Barboza.
You're fighting Maksym Matus, the current champion, for the UCMMA lightweight title. What threats does he pose for you?
He competed at national level as a wrestler in Ukraine, so he's going to to try and take me down and lie on top of me, but I'm not going to let that happen. I'm going to be hitting him with all kinds of strikes, and if he does take me down I can pose him problems off my back - and I'm fast in scrambles. I'm predicting a win via knockout in the second round.
Alfie Davis fights Maksym Matus at UCMMA 41 on Saturday 8th November at The Troxy in London. Buy tickets here.
Photography provided by Sabs Shots.
Alfie Davis is sponsored by Hotlinks.
Sign up for workout ideas, training advice, reviews of the latest gear and more.
Coach is a health and fitness title. This byline is used for posting sponsored content, book extracts and the like. It is also used as a placeholder for articles published a long time ago when the original author is unclear. You can find out more about this publication and find the contact details of the editorial team on the About Us page.