Carly Baker Interview
Britain's own Octagon girl on training hard, taking on Ronda Rousey, and where you're going wrong in the gym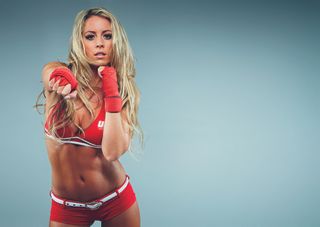 (Image credit: Future)
This interview was first published in 2014 in an issue of Men's Fitness UK, which predated then shared a website with Coach. It was updated in 2022 to improve the formatting.
How often do you train and what sessions are most effective?
Fitness is my biggest passion so I hit the gym four or five days a week – six if I can. As a qualified personal trainer I know what I'm doing and though I love cardio, I also do a lot of resistance training. You don't see many women hitting the weights, but they're amazing for building functional strength and burning fat. I like switching up sessions every time but the common theme is going hard and getting my heart rate up.
Has your training regime changed since working for the UFC?
Not really. I knew what I was doing before and I wouldn't train like the fighters I come into contact with now because what they do is so specific to how they perform in the Octagon. What I have enjoyed learning since I've been with the UFC are submissions – I can pull off a mean rear naked choke.
So you're not tempted to fight then?
The UFC pranked me on April Fool's – they announced I was going to fight and for a second I was terrified they were serious. Sometimes I think I'd like to, but then I see someone like Ronda Rousey go to work in the flesh and it's insane. I'm quite fond of my face the way it is now so I'll stick to being on the other side of the cage.
What are the craziest things you've experienced cageside?
Initially knockouts were intense but I've got used to them now. I think it's because the first time you see one you're not sure what's going to happen to the fighter who's out, but after a couple of times you know they're going to come around.
What's your approach to nutrition?
I recently experimented with vegetarianism but since I don't use supplements I started to worry I wasn't getting enough quality protein, so I re-introduced fish to my diet. I eat a lot of fruit, salads and sweet potato and, if I'm being naughty, dark chocolate.
What annoys you about men in gyms?
When I'm on a machine and some guy hovers about waiting for me to finish. Or when they're checking themselves out in the mirror as if everyone's going to be impressed. It's a gym, mate, most people have muscles.
What's the biggest mistake men make in their training?
Guys who completely neglect their legs look ridiculous, but I'm a shoulders and arms girl so those are the things I notice first.
Who's the most hardcore Octagon girl in the gym?
We all love training, which is good because we have to be in great shape. If I had to single any girls out I would say me and the two Brazilians, Jhenny Andrade and Camila Oliveira – we all do Muay Thai conditioning.
Sign up for workout ideas, training advice, reviews of the latest gear and more.
Nick Hutchings worked for Men's Fitness UK, which predated, and then shared a website with, Coach. Nick worked as digital editor from 2008 to 2011, head of content until 2014, and finally editor-in-chief until 2015.