MF meets: UFC Fighter Luke Rockhold
UFC fighter Luke Rockhold is known as a hard-partying guy who doesn't take life too seriously – except when it comes to training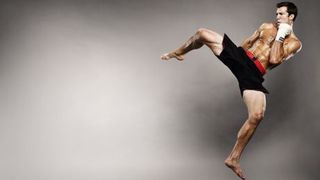 (Image credit: Unknown)
Tornado kicks are hard. Not only is the technique difficult to nail – it combines a leaping kick with a 540˚ spin – but the dynamic movement makes it hard to photograph as well. That's why UFC fighter Luke Rockhold has done 48 in a row at our photoshoot and we still haven't got the perfect shot.
Our art director suggests one more attempt and Rockhold nonchalantly fires off his 49th perfect kick. This time we get it – you can see the result above. Naturally, it's only after we're finished that Rockhold mentions his toe is still broken from his most recent fight. This is a fighter who has a way of making hard things look easy.
By the horns
Since winning the Strikeforce middleweight title in 2011, Rockhold has drawn attention for being a little different to the rest of the world's elite mixed martial artists. The 29-year-old Californian isn't just a contender in one of the UFC's most stacked divisions with a knack for first-round finishes – he lives a lifestyle that would put all but the most diehard adrenaline junkies to shame. How many people do you know who'd charge down a full-grown bull?
'I was out in Costa Rica and went to a bull festival,' Rockhold explains. 'Every once in a while a couple of locals would jump in and run away from the bull.' Initially Rockhold's sense of self-preservation held out. 'I remember thinking, "There's no way I'm going to jump in",' he says. 'But after a little of the guaro [a Central American spirit] and whatever else we were drinking, it was just something I had to do. I took a swig from the bottle, gave my friend my camera and then pretty much just jumped over the fence.'
Obviously, Rockhold didn't trouble to look into the arena before he jumped in and ended up finding himself face-to-face with the biggest bull of the night. Not that it troubled him too much. 'I just ran at the thing,' he recalls. 'I tried to fake going right, then left. He just put his horns down and tried to take a piece off my ass.'
The bull missed, but only just. 'He whiffed by me – he was literally within inches of goring my leg,' says Rockhold, laughing. 'Man, my butt was puckered up.' He made a dash to the fence to be pulled out by his anxious friends. 'I expected my buddies to be all excited about it but they were freaking out on me.' He pauses before adding, 'I'll never do that again. I mean, I was wearing Vans with no shoelaces.'
Close to the edge
It's not all duelling bovine death machines in Central America though. Rockhold's Twitter feed is an illuminating window into his world, whether it's posting selfies with Will Ferrell at the World Cup or being snapped hanging out with five of the UFC's bikini-clad ring girls. In fact, you get the impression Rockhold is a hit with the fairer sex. UFC president Dana White refers to him as 'that handsome one' and it seems that a lot of his stories start with him in the company of 'a couple of girls'.
'I do have some good stories,' says Rockhold. 'One 4th July weekend I was out in California with a couple of girls. We were walking down a little road right on the cliffside and we went past about five or six guys getting rowdy. They said something to me and I said something back. Next thing I knew, it was them versus me. I kinda started fighting all of them, throwing roundhouse kicks and crazy stuff.'
Rockhold found himself backed up to the edge of the cliff with a 20-25m drop onto jagged rocks. Then he went over the edge.
'It was one of those things when you've been drinking and you can't explain everything that goes down,' says Rockhold. 'I remember getting swarmed by the guys, being pushed and flipping off the edge. Somehow I landed just like Spider-Man on this tiny ledge about ten feet [3m] down the cliff. I was stuck there.' As you might imagine, the fight was quickly forgotten as Rockhold went over the edge. 'Everyone ran over expecting to see a dead man at the bottom of the cliff and realised I was right there. Everyone was trying to help me up, even the guys I was fighting. They thought they'd killed me. It somehow all worked out.'
Enjoy the ride
Rockhold doesn't tell this as a cautionary tale about fighting on the streets – it's just a good story. In fact, as he is telling it he's playing around with a skateboard in the photo studio, landing a frontside pop shove-it as he gives us the details. So far he's only smashed one glass. 'If there's a skateboard in front of me, I can't help myself. I like to jump on,' he says as MF hastily clears the shards away. 'Skateboarding is a little risky for someone like me, but…' He shrugs. 'I like to surf when I can as well.'
Rockhold says surfing provides him a welcome break from life at the gym. 'It's a good workout and it's refreshing to get out of the gym,' he says. 'I wanted to go on a cool surf trip to Bali or Indonesia after my last fight but I ended up breaking my toe so that put things on hold. Maybe next time.'
If it seems as if Rockhold is joking his way through life and MMA success has been a fluke, think again. He may know how to have fun but there's a serious work ethic that's underlined his success in the cage. He comes from a family of athletes, which fostered a competitive attitude in him from a young age. 'My dad was a professional basketball player and my mom was a hell of a tennis player,' says Rockhold. 'And my older brother Matt is a pro surfer. Being the youngest, I always felt I needed to live up to their achievments.'
Self starter
That competitive edge is evident in his attitude towards training. For one thing, Rockhold oversees all his own strength and conditioning and nutrition, saying that he feels a lot of coaches' programmes don't really work for him. 'I pick and choose from guys I like. I've made my own deal and I follow my own programme,' he says.
Nutrition is crucial in a sport governed by weight classes and Rockhold feels it's an area that many MMA fighters don't take seriously enough. 'People just have no idea what they are putting into their body. You have to have a varied diet – your carb base, your vegetables and your protein, everything,' he says. 'I just don't see how it is possible to be a vegetarian or vegan when you break your body down so much. You have to recover. You need those proteins and proper amino acids, like leucine, which only really comes from animal fats.'
As well as keeping a close eye on his diet, Rockhold believes his work ethic in the gym is unparalleled. 'I don't think anybody [in the middleweight division] is more conditioned or more prepared than me. I feel like I train harder and smarter than anybody out there,' he says. 'I've got a lot of natural talent and I'm not wasting it. I push harder than anybody in my gym and anybody I have ever been around. I am going to keep that mentality. This is my dream and I'm not going to let anyone take it from me.'
Title talk
Rockhold's confidence is more than just tough talk. He's displayed his conditioning in the cage, most notably when he wrested the Strikeforce middleweight title from vicious submission artist Ronaldo 'Jacaré' Souza in a five-round battle. 'I didn't really know what Jacaré was capable of but I just knew that I wanted to win the title, so I gave every last bit of myself,' says Rockhold. 'I wasn't going to let him stop me in the later rounds. Actually I think my conditioning was what really won me that fight. I outlasted him with that determination.'
It was the first time Rockhold had been beyond the first round in his entire professional career. 'That was an amazing feeling – I cried a little,' he says of his title victory. 'I've never cried after a fight before but I couldn't help it. As soon as they announced "and the new…" I just started bawling.'
So just how good is Rockhold and how close is he to capturing a UFC championship? The UFC has him ranked fifth in its middleweight division. Of the men above him, two are coming off losses to champion Chris Weidman, one is in trouble for drug use and the other – Jacaré – Rockhold has already beaten convincingly. A title shot is well within his grasp.
The only hiccup in his UFC run so far was a KO loss to Vitor Belfort via a spectacular spinning heel kick. The loss is mitigated slightly by the fact that Belfort has recently been in hot water over performance-enhancing drug use. 'I think that the guy's been cheating his whole career, but it's not an excuse for me to lose that fight,' says Rockhold. 'The simple fact is Vitor is a cheater and I don't respect him for that – I want to fight him again and beat him for the purity of the sport.'
Righteous path
Cheating is one of the few subjects that makes Rockhold's relaxed demeanour fade. He says you can tell when someone has been cheating as soon as you fight them. 'They have kind of freakish, explosive strength,' Rockhold says. 'But it only lasts so long. If you get through the initial burst of strength they die quicker than anybody else.' But it's not just the physical advantages steroids bring that upset him. 'It's the feeling of invincibility these guys get from the stuff, it gives them super, super-confidence,' he says. Confidence is a huge part of fighting. Doubt yourself and your techniques will fail. 'I think confidence is the biggest thing for a lot of these guys [on drugs].'
When you've been in the sport a long time, Rockhold says, you hear things. 'I think quite a few of the top guys are using some form of performance-enhancing drugs,' he says. 'It's a huge problem and I think it needs to be regulated with blood tests, and people need to be punished. I could never cheat, I just couldn't live with myself, and I have no respect for the people that do.'
It's a bold statement to make. But it's one that sums Rockhold up: he's the guy that'll party as hard as anyone and will always have a crazy story to tell. When it comes to competition, though, he's serious. He wants to train hard, he wants to win and he wants to win clean. And when he wins the title that way, it's going to be his best story yet.
Photography: Danny Bird, Jeff Bottari/Zuffa LLC
For more on the UFC, visit ufc.com where you can sign up for your UFC Fight Pass and see action from UFC events
Sign up for workout ideas, training advice, reviews of the latest gear and more.
Matt joined Men's Fitness in April 2014 as features writer after spending several years writing for a luxury lifestyle magazine, swapping champagne and canapés for cardio and leg days.
Matt is a keen Thai boxer and his interest in fitness took off when he made the decision to compete semi-professionally and had to get in shape. Training aside, he says the worst thing about fighting is resisting the urge to apologise all the time.
Oh, and he's still on the look out for a decent fight nickname after being told 'The Best' was reaching a little bit…
Favourite move: Any kind of squat variation
Favourite sport: MMA and Muay Thai kickboxing
Personal best: Competing in a semi-pro K1 bout
Targets: Sub-1hr 40m half marathon and winning a fight by KO
Scariest MF moment: Writing about myself in the third-person for this profile
Favourite MF website story: Spider-Man workout
Favourite trainer quote: 'Hands up, chin down' – every striking coach ever
Biggest gym crime: Avoiding the weights and sticking to the treadmill