Upgrader diary: rugby - part 1
Niall Moody has six months to get into shape to revive his amateur rugby career. After week one, he's raring to go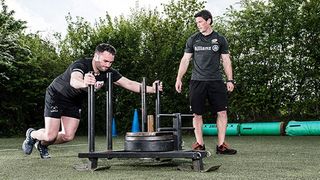 (Image credit: Unknown)
Today I lived the life of a professional rugby player – at least one who is about to go through an intensive six-month programme to resemble one. It was my first session with Saracens strength and conditioning coach Andy Edwards at the training ground of the Premiership Rugby outfit.
Just walking into the Saracens gym was inspiration enough but working through the various tests and building up an understanding of what the next six months was going to entail really got me excited for the task ahead.
First we spoke about my training history and the small lifestyle and diet changes I'll need to make to take big steps forwards. The biggest – yet most inevitable – change is to reduce my alcohol intake. Andy explained how a few beers after work or a lot of them at the weekend add unwanted calories to my daily intake and, worse still, can leech nutrients and energy from my body.
After years of trying – believe me, I was very dedicated – I've had to accept you can't out-train a bad diet. I'll need to make these changes if I want to see the benefits of the work I'm putting in. Thinking like that makes the sacrifices feel a little easier.
But it's not all about cutting back. My supplement shopping list has grown. To support my training I'll be dosing up on Optimum Nutrition Gold Standard Whey and Optimum Nutrition Creatine to improve my performance during and maximise my muscle growth after each workout. I'll also load up on Optimum Nutrition amino energy to keep my energy levels up, and take Optimum Nutrition fish oil and multivitamins to support my immune system.
Before I had time to consider how I'd fit in any normal food around all these pills and potions, Andy moved onto outlining the training plan I need to follow: four gym sessions (two lower body and two upper body) and two running sessions a week to start. Any hopes for a gentle introduction were quickly dispelled.
Next up, we went over some movement tests to make sure my body isn't a complete train wreck. These included the classic compound lifts I've grown up with and a more advanced overhead squat test. Then we went through some brilliant soft tissue release and muscle activation drills I'll use before each session that will allow me to focus on intensity and form for each exercise.
As I'm on my way back from knee surgery I felt frustrated not being able to do all things at the level I'd expect but Andy adjusted everything where necessary to ensure we were getting the most out of session.
We rounded the first session off with some tests to set benchmarks I hope to break at the end of this Optimum Nutrition Upgraders challenge in six months. My bodyweight is currently 105.6kg with a six-month target of 98kg. My peak power on the wattbike hit 1507watts and my distance for the counter movement jump (similar to a vertical jump that measures leg power) was 34.7cm.
Finally, what I'd been dreading, was the shuttle test – akin to the bleep test but favoured for rugby. Edwards has set me an initial target of getting down to between 215-220 seconds. I finished in 285 seconds. Plenty of room for improvement.
Immediately after – or at least ten minutes later – I felt great but the test itself was five minutes of absolute hell.
Sitting on the train back from the training ground I was still sweating and trying to catch my breath while contemplatively sipping on an Optimum Nutrition mint choc shake… But, for all the challenges and future hurdles I'll have to clear, I can't wait for the gym tomorrow.
Coach's verdict
'It was great to get cracking with Niall today,' says Andy Edwards. 'He has a good training history and he does pretty well on all the big compound lifts such as squats and deadlifts, which will definitely set him in good stead for the month.
'For the first few weeks we'll be focusing on his consistency of training, improving his movement patterns and building a solid running base. Then as we move into May we'll get started with his strength programme which will be the foundation for everything that follows. Niall seemed genuinely eager to get going with his training and make some positive changes. All in all, it's a great start.'
Sign up for workout ideas, training advice, reviews of the latest gear and more.
Coach is a health and fitness title. This byline is used for posting sponsored content, book extracts and the like. It is also used as a placeholder for articles published a long time ago when the original author is unclear. You can find out more about this publication and find the contact details of the editorial team on the About Us page.