Fun Activities in London
Opportunities to combine physical activity with fun abound. Here are ten of the best in London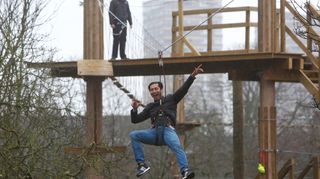 (Image credit: Unknown)
Staying active doesn't have to mean squatting five times your bodyweight and running 25km before breakfast. Not everyone likes their physical activity gruelling or confined to the weights room, and Coach firmly believes that you stand a much better chance of achieving your goals if you enjoy yourself. These ten London-based activities – suitable for all fitness levels and delivering generously on the fun – will get you moving without having to bust a blood vessel or endure a maniac shouting at you.
1. Go Ape
Embrace your inner Tarzan at central London's first high-wire tree-top park. Go Ape has 29 adventure sites around the UK; most of them are in forests, this one, more conveniently, is in Battersea Park.
If you fancy scaling heights of up to 12 metres, traversing hanging platforms and throwing yourself across a 50-metre zip wire, book on to the Tree Top Adventure, which usually lasts two/three hours depending on your levels of skill/cowardice.
"The Chantemerle Crossing is probably the most challenging," says Go Ape area manager, Rob Bell. "It's a 10m-long suspended log that you walk across holding ropes. It can get very wobbly so it'll really test your core strength.
"We get all types of people at Go Ape, most seem to relish the challenge and feel a real sense of achievement when they've completed the course. While you only need a basic level of physical fitness, you'll find you burn between 500 and 700 calories in a session. It's a great way to live life more adventurously in the heart of the city."
Tree Top Adventure, Battersea Park, SW11, £33, goape.co.uk (opens in new tab)
2. Oxygen Free Jumping
A hundred and fifty wall-to-wall trampolines, springy dodgeball, slam-dunk basketball hoops, an obstacle course complete with pugil sticks and rolling beams, a huge airbag and a foam pit… welcome to the bouncy paradise of your childhood dreams.
Hidden away down a back street in West Acton, Oxygen Freejumping is London's first trampoline park. The venue offers fitness classes, trampolining instruction, and a Freerunning Academy, but the best way to experience it on your first visit is a one-hour Freejump session, which allows you to bounce your way around all the wonders the park has to offer.
"We always say it's impossible to bounce without a smile on your face," says Ollie Griffiths, marketing manager at Oxygen Freejumping, "and if you look around you'll see that's true. You try not grinning when you're flipping into air bags, bouncing off walls and generally acting like a big kid. It's a great workout too – jumping is a lot easier on the joints than running and when you're having fun you'll hardly notice you're exercising."
If you want to mix with an older crowd, evenings tend to be popular with teens and adults. If you go at the weekend, it's advisable to book early as it sells out quick. Look out for dodgeball tournaments coming soon.
Freejump, West Acton, W3, £12.50, oxygenfreejumping.co.uk (opens in new tab)
3. Gorilla Circus
No need to run away and follow the big top, you can learn to fly in north Greenwich with a Gorilla Circus trapeze lesson. The two-hour Indoor Flying Trapeze Class is suitable for beginners and attracts a wide range of attendees.
"We have people from the age of six to 76," says instructor Ezra Trigg. "In the summer we take the classes outdoors with a trapeze in Regent's Park from May to September, and a second trapeze in Kensington Gardens for a shorter time too."
In a beginner session you'll start with a warm-up and then learn a trick on the low bar, around eight feet off the ground. Once you've mastered that it's on to the flying trapeze where you can try your trick again from the approximately 8m-high platform (don't worry, you get a harness).
"If people are successful on the flying trapeze then they'll get a chance to swing and be caught by an instructor," says Trigg. "It's a great way to build upper-body strength and take your mind off the stresses of everyday life, plus it's incredibly enjoyable."
Indoor Flying Trapeze Class, Hangar Arts Trust, SE18, £28, gorillacircus.com (opens in new tab)
4. Citydash
A high-energy treasure hunt through the streets of London, Citydash is the mastermind of immersive experience company Fire Hazard. Players work together in teams of up to five to solve cryptic clues sent via a web app to their mobile phone. The clues lead you to checkpoints where you'll need to hunt down codes to win points. The team that collects the most points wins. Sound simple? To make things trickier, you're going to need map-reading skills to find the checkpoints and a beady eye to spot patrolling guards – if they catch you, they'll dock points, and they're not afraid to give chase.
"The guards add to the thrill," says Michelle Hudson of Fire Hazard. "The whole thing is brilliant fun, it's a good way to get some fresh air, get competitive and explore parts of London you didn't know existed."
Citydash, various locations, £15-£20, citydash.net/games (opens in new tab)
5. Lee Valley White Water Centre
It's arguably just outside the city – but hey, it was part of London 2012 and it's only 30 minutes by train from Liverpool Street. To throw yourself down the grade-four rapids in a nine-person raft, you need to be over 14 and under 18 stone but non-swimmers are more than welcome.
"It's not advisable if you're petrified of water," says centre manager Paskell Blackwell. "But apart from that, it's suitable for everyone. It's a sitting-down sport, so your fitness level is only really going to affect how much you can paddle. You don't need any experience whatsoever and it's a great way to get a taste of an extreme sport in a safe environment. Sessions last two hours, although we advise giving yourself a bit of extra time to get into the wetsuit – which can be a workout in itself – and have a shower after."
White Water Rafting, Lee Valley White Water Centre, Waltham Cross, EN9, Mar-Nov, from £35, gowhitewater.co.uk (opens in new tab)
6. Rabble
Devised by two university friends who wanted to put the fun back into their fitness regime, at Rabble's outdoor sessions you play childhood games and get muddy for an hour. British Bulldog, Capture the Flag and touch rugby – all your schoolyard favourites are there, as well as more inventive challenges based on films such as The Hunger Games.
"Most of the people who attend are young professionals in their 20s to 40s who have hectic jobs and want a bit of an escape," says co-founder Charlotte Roach. "It's great for people who like team games but don't want to commit to a league and having to play every week. You don't need any experience and it's open to all fitness levels. When people come regularly you can see them increasing their speed and endurance and there's a big social side to it too. It's a great way to expand your community of friends in London."
Hyde Park, Finsbury Park, Waterloo, Clapham Common, Shoreditch Park, from £8 for the first session, joinrabble.com (opens in new tab)
7. The Crystal Maze
The 1990s TV show that everyone wanted a go at is coming to London in real life. After a successful crowdfunding campaign that attracted nearly 7,000 backers, a secret location in the capital is being transformed into a one-hour 45-minute immersive experience complete with live actors.
Teams of eight will test their mind, body and skill in four adventure time zones – the Aztec, Medieval, Industrial and Futuristic, and, of course, the Crystal Dome where TV participants collected golden tickets in what was essentially a massive crystal hairdryer.
"Like all good team activities, the Crystal Maze is all about good old-fashioned fun," says creative director Tom Lionetti-Maguire. "It's not the best individuals but the best team that will succeed. Throw in games to test your physical, mental and skill-based capabilities across four fantastical zones and it's set to be a really exciting and rewarding experience."
Secret London location, 15th March-18th October, £50-£60 plus booking fee, the-crystal-maze.com (opens in new tab)
8. Parkour Generations
If you've ever fancied trying your hand at parkour – moving freely over any terrain by running, jumping and climbing – the Chainstore, the UK's only dedicated parkour/freerunning centre, should be your first port of call. A historic building filled with metal, concrete and wood structures designed to recreate the obstacles you'll find in the streets, it offers accessible classes for all abilities.
Run by professional coaches and performers, Parkour Generations, in a two-hour class you'll learn the basic concepts and movements of parkour such as climbing and vaulting techniques.
"Some people think of parkour as an activity for teenage boys, but they tend to watch videos on YouTube and go straight to the streets to try it," says coach Alex Pownall. "We have 70-year-olds, 23-year-olds, bankers, all kinds of people in our classes – there's no set demographic. Everyone gets something different out of it: some come for the physical aspect, some want to master complicated moves, others want to learn more about themselves and build confidence. You don't need to be an athlete to come – everything is designed around what you can already do but maybe don't realise. We're not trying to teach you skills you don't know about, we're unlocking sets of movements you can already do but have probably never practised."
All Abilities Parkour Class, The Chainstore Parkour Academy, Trinity Buoy Wharf, E14, £15, parkourgenerations.com (opens in new tab)
9. Play With A Legend
Play With A Legend offers you the unique opportunity to play alongside your (retired) footballing heroes in a five-a-side match or full-on tournament. "Some of our most popular players are Paul Merson, Matt Le Tissier and Darren Anderton," says Josh Landy, a sports journalist who co-founded the company with ex-Arsenal player Perry Groves.
"I think a lot of the appeal of Play With A Legend is nostalgia, and we get a lot of stag dos and groups of guys in their late 20s and early 30s who want to play with the footballers they grew up watching. We always leave around an hour for a post-match pint, which is a highlight for a lot of people; the former players always have interesting stories to tell."
Various locations, prices from £50 per person, playwithalegend.com (opens in new tab)
10. Up At The O2
You've probably hit up the O2 for a gig in the past, but scaling its iconic dome will give you a whole new view of the venue and the city. It's 52m at its highest point and 365m in circumference, and on a clear day you can see the Olympic Park, the Gherkin and landmarks up to 15 miles away as you climb.
Climbs are available during the day, at sunset and by twilight – when you'll get great views of the city lights – and if you want to go it alone or with a select group of mates, private climbs are an option too. Each expedition experience takes around 90 minutes, including a safety briefing where you'll be kitted out in a climb suit, harness and firm-gripping shoes before your guided session to the viewing platform at the summit.
"Up At The O2 is London's ultimate urban mountaineering experience," says Steve Buchan, general manager at Up At The O2. "Although it's not too physically challenging, visitors do need a basic level of fitness as there are 480 steps to cover and you burn around 450 calories – similar to a running 3-4 miles. Climbers are clipped on with a harness, so it's very safe, but a head for heights helps as once up there the only way back down is to complete the climb."
The O2, SE10, climbs from £28, theo2.co.uk (opens in new tab)
Sign up for workout ideas, training advice, reviews of the latest gear and more.
Charlotte Thomas is a freelance journalist and health and fitness blogger at Lunges & Lycra (opens in new tab).