Northern Ireland Manager Michael O'Neill On Motivation
After securing Northern Ireland's first Euros qualification, O'Neill reveals how he motivated a team to achieve the seemingly impossible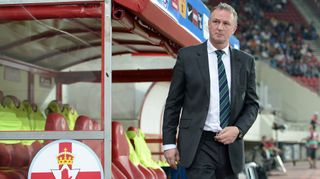 (Image credit: Unknown)
At the start of your Northern Ireland managerial career things weren't going to plan, with just one win from your first 18 games. How did you stop your own self-belief from eroding?
That's been the toughest part of my international management – having to lift myself after bad results. This can be a very lonely job, and with so few staff it's not like I can come in to work and expect people to pick me up.
But at no point did I feel like the players weren't with me, and that, ultimately, came down to perseverance on my part, believing in what we were doing and just hoping it would pay off. When I took the job at a relatively young age of 42, I wanted to make sure I did it to the best of my ability. That was my motivation as much as anything – to keep going and to make things better. We've achieved more than we envisaged since then, and it was down to perseverance.
What was holding your team back during that spell?
We needed to bring an identity back to the Northern Ireland team. I felt that they'd lost what they were about. In the past, you couldn't question whether the Northern Ireland team had heart or not and that was something we needed again.
How do you begin to do that?
I used all sorts of things and I wasn't scared of trying anything. I made the team some motivational videos. I brought in a personal leadership expert to talk and did a few other processes that I hoped would change where we were.
Videos such as?
Well, there wasn't anything like Any Given Sunday in there. They were videos that I had made specially, based on the campaign to date and how things had gone, how the individuals should behave and feel as international players, and things relevant to their country. It was designed to give the boys a real identity, let them see how important it was to have spirit and that they had to do this together. The players really responded to it.
It sounds like a huge part of finding that identity was reinstalling some pride and a sense of belonging – would you agree?
Yeah, I think so. I was looking at any way possible to give the lads an understanding of what it meant to be a part of a Northern Ireland team, but more importantly, to be a part of a successful Northern Ireland team. That proved to be a big part of it.
Can you pinpoint when everything clicked into place?
The big turning point was against Hungary [in September 2015]. That game seemed to kick things into life. After playing well for 70 minutes and then going one down, you start to think "Oh, here we go again", which is exactly the attitude I was trying to get rid of. But ultimately, we clawed our way back and got ourselves a great equaliser.
The reaction of the players to that result was brilliant. In our next game against the Faroe Islands, who are always a potential banana skin, we had so much more confidence and enthusiasm. Before that, you felt that at times the players thought international duty was a burden. Suddenly, that changed – the atmosphere was so much better for the players. If you can create a good atmosphere and culture, players will respond to that. Crucially, the players themselves have to play a huge part in forming that culture.
Do you think overconfidence can be an issue?
It can be, and I'd say a few players out there have that level of self-belief. But it only becomes an issue if a player starts to lack application in terms of how they go about their business, how they prepare, and if they start to think they can just turn up and play. If a player is supremely confident and applies themselves properly, then that's the ideal situation. You want a player that can be confident in his own ability, matches that with the right application and preparation, and knows what it takes to achieve a top performance.
If there's one thing that can instantly drain motivation in a team, what is it? And how do you quash it?
A team that trains well and prepares well is the most important thing. The players control that just as much as the manager. Once you have a lowering of standards among players, and that lowering of standards in accepted, that's when you're going to have issues. But it's really great when you see players getting frustrated with each other because they feel they're not applying themselves on the training pitch properly. You're onto a winner with that.
Northern Ireland play their final pre-tournament friendly against Slovakia on Saturday 4th June at 5pm, before their opening Euro 2016 match against Poland on Sunday 12th June at 5pm (times are BST).
Sign up for workout ideas, training advice, reviews of the latest gear and more.
Craft beer drinker, Devonian, fisherman and former content director of Coach online, Chris contributed style coverage and features between 2016 and 2019.