David Coulthard: "I Made Myself Bulimic"
Channel 4's F1 pundit on the sacrifices he made as a teenager and who showed him the fastest route to the top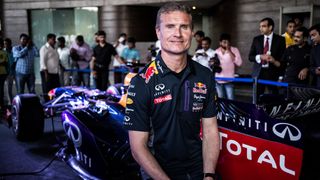 (Image credit: Unknown)
Who helped you become a driver?
I come from a family of racers. My father was a karting champion, and that was how I got into the sport. But right from the start, I knew I didn't just want to race against other Scottish kids, I wanted to race against the whole world. That meant I was racing every weekend, all over the UK. My parents had to pick me up from school in Kirkcudbrightshire on Friday afternoon, drive me down to London to do a race, and then drive me back on the Sunday night, all before going back to work on Monday.
Which of those early opponents did you learn from?
My first karting age group was 11-16, so clearly there were some boys who were shaving and had lost their virginity and who were men in body, if not mind. At 11 years old I wasn't quite there yet, but I just got on with my business and tried to learn from everyone who was better than me. I kept a grading system of how I had performed, which was a good way of registering my mistakes and how quickly I had recovered from them. It's a very useful exercise to enrich your powers of visualisation, which pays dividends in the long run.
Which coach did the most for you?
Dave Boyce. He looked after me as a kid. I've recently asked him to mentor my own son, Dayton, who has taken an interest in karting, to see if he has the skills and commitment to make it. Because it does take sacrifices. I made myself bulimic, not because I was unhappy with my looks, but because I knew, as a tall teenager, I needed to keep my weight down.
Motor racing is obviously a very expensive business. Who supported you financially?
When I first left Scotland, [three-time World Drivers' Champion] Sir Jackie Stewart helped me a lot. I joined his son's team, Paul Stewart Racing [which later became Jaguar], and Red Bull. I was part of their "staircase of talent", and I got my step up from test driver when Ayrton Senna was killed.
You've had brushes with death yourself – did you learn from them?
Being knocked unconscious on the track made me, in my mind's eye, able to visualise what the end of my life will be like – at least if I die in a car crash. I didn't remember the lights going out, and I didn't know anything about the incident until I came round. So, if I had died, I wouldn't even have been aware of it happening. I was in an aeroplane crash when I was 30 years old, which was a tragic experience for the families of the two pilots who died, but it was also a wake-up call for me. It made me refocus. I'd been getting by at a level that made me comfortable, and I needed to get out of my comfort zone. After that, I worked harder and went through the best period of my racing career.
Which drivers do you most admire?
I see a lot of my old team-mate Mika Häkkinen because we have similar contacts outside of Formula One. We went through a lot together emotionally, on and off the track, and I like him a lot.
Who helped you most when things weren't going well?
My family. I'm grateful for things they have done, and also for the things they haven't. For instance, when I first got in a Formula One car, I was living in Milton Keynes and I excitedly phoned my father to tell him the day and time I would be testing, thinking he would come and watch. He said, "Son, the team are testing you, they're not testing me. Call me afterwards and let me know how you got on." That showed a great maturity, because as a father it can be difficult to let go. You've been through your son's journey and seen him become an adult, and it's tempting to stay on board for the rest of the journey, to get involved in business things you maybe don't know so much about. Letting go is brave.
Who is the best person in F1?
Bernie Ecclestone gets a lot of negative press, but I see him as a motivated person who makes things possible for other people. It's like with Jose Mourinho, the media has a perception of him that they want to put out there, but they sometimes ignore the fact that his energy and talents are helping other professionals make it to the top.
Watch the Hungarian Grand Prix on July 24 live on Channel 4. Visit f1.channel4.com for information on their F1 schedule
Sign up for workout ideas, training advice, reviews of the latest gear and more.
Grub Smith contributed interviews and features to the print edition of Coach, which ran from 2015 to 2016.