Football Legend Gary Neville On Becoming A Man
The former England coach honours the people who enabled his tricky transition from full-back to pundit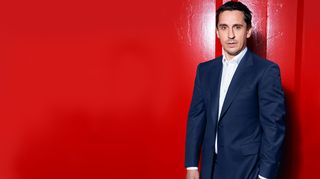 (Image credit: Unknown)
Who turned you into a sportsman?
When I was growing up with my brother and sister, sport was ingrained into our lives. We'd go and watch [Manchester]United as kids from the age of four, or watch Bury when my dad worked there. In the summer, my mum played hockey, rounders and netball and my dad played cricket. We'd be left to ourselves on the boundary with a bat and ball and we'd play all day. Then we'd go home and watch sport on TV.
Who was the best coach you had as a youngster?
From the age of 16 to 18, I was coached at Old Trafford by Eric Harrison. His opening speech when we joined was: "If you listen to what I say, there's a small chance you could be a Manchester United player one day. If you don't listen to me, there's absolutely no chance." He took me from being a boy to a man by explaining exactly what I needed to do to make it as a defender. He was an incredible influence on my sporting life.
What's the best team talk you had?
Sir Alex was fantastic. I had him for 20 years, and he was always coming up with new insights, sometimes from business or politics. But there was always the same message running through his talks, about the importance of hard work and trusting each other.
He used to stand outside the changing rooms at Old Trafford on his own for a minute just before kick off, to ensure that when the opposing team and the referees came out, he was in their face. Psychologically, he used his aura and presence to have an extra impact of intimidation. It didn't work on all teams, of course, but it did shake up a few of them.
Who was the best player you saw who never made it?
Well, Ben Thornley made it, but he got badly injured at 18. A cruciate injury back then was serious, a 12- to 14-month injury, and you never got back to the same level. He had been a very big talent, tipped to play for many years at United.
Who was the most impressive behind the scenes?
Norman Davies and Albert Morgan, the kit men at United. They were the hub of the dressing room, fantastic characters who got on with everyone.
RECOMMENDED: Zinedine Zidane Interview
Which footballer writes the best tweets?
I don't read tweets from pros. They're very corporate – most of them are written by their agents. I prefer following people like Tim Burgess. I do get some funny ones sent to me, mainly by people who don't rate me. I got one that just said "knob", which made me giggle.
Who is the best administrator in football?
David Gill, the ex Manchester United chief executive. He's hard, fair, honest, compassionate – all the things you would want from leader, and he's financially astute as well. I would put him in charge of English football because it needs someone who can connect the professional game with the amateur game, protect the rights of fans to have affordable tickets, and bring together the FA and the Premier League.
Who helped you make the change from player to TV analyst?
The biggest influences were Scott Melvin and Geoff Shreeves. Geoff was the person who brought me to Sky, and he would always feed back honestly and brutally. Scott was producer of Super Sunday and Monday Night Football – he coached me from being a disastrous commentator in the early months to someone who is acceptable.
Who is your favourite pundit or commentator?
Martin Tyler. Detail, delivery, credibility, knowledge – he has it all. He's the last of what I would call the "voices of sport". Barry Davies, John Motson, Brian Moore, Richie Benaud, Murray Walker, Sid Waddell… I can't see any of the new breed of commentators replacing these legends in the public mind.
Class Of 92: Out Of Our League – Our Journey Back To The Heart Of The Game by Nicky Butt, Ryan Giggs, Gary Neville, Phil Neville and Paul Scholes is published by BBC Books, £20, buy on amazon.co.uk
Sign up for workout ideas, training advice, reviews of the latest gear and more.
Grub Smith contributed interviews and features to the print edition of Coach, which ran from 2015 to 2016.