American Football Star Andrew Luck's Glorious 5K
"It was probably the furthest straight distance I've run in a line, ever"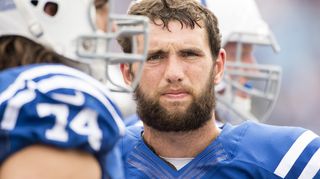 (Image credit: Unknown)
What's your most impressive personal best?
This is embarrassing, but I ran a 5km this year for the first time in my life. I just disdain long-distance running, however, it was a lot of fun and just challenging enough. It was probably the furthest straight distance I've run in a line, ever, and I was really proud of myself for finishing, which is a bit of a joke.
Shouting in the gym – annoying or essential?
Is it acceptable to shout in the gym? It depends what gym. I think if you're on your own and you're shouting in a public gym, then that might be a little bit odd, but when you're with your buddies then maybe it's OK. What am I shouting? I'm probably not shouting anything, I'm not much of a shouter…
Which excuse for not going to the gym/working out are you most ashamed of?
Usually it's just that I'm tired, you know? Although I work out every day and I actually enjoy it – it's fun. It's one of those things – you take a break after the season and you let your body rest and then once you start working out again, it stinks and it's tough at first, but after a couple of weeks in you start feeling good. You just want to work out more and more, and it feeds itself, in a sense.
Is there a piece of gym equipment you can't live without?
Definitely my foam roller. Or anything to use to just roll out on, I'm a big fan of anything like that.
What's the most extreme thing you've done in the name of good health or fitness?
Extreme? That's a good question. I drink peppermint tea every night before going to bed, but I don't know if that's extreme. I take a 20-minute nap every day after lunch, maybe that's the most extreme thing? But that's just part of my routine, it's actually great. It's never longer than 20 minutes though, otherwise you get too tired.
Have you ever pulled a muscle in less-than-heroic circumstances?
Absolutely, even just bending over to pick things up. So yes, the answer is yes...
Have you ever bought a piece of exercise equipment but never used it?
No, I don't buy many fitness-related things, so usually if I'm buying something it's for a good reason. Although I did get some Nike medicine balls and I don't use them very often – I just use them to roll out on, instead of properly training with them.
What's the longest you have gone without alcohol in the name of good health?
I don't know actually – I don't drink that much alcohol, so I don't necessarily count going with it, or without it.
Have you ever fallen off a treadmill?
No, but I have got a soccer ball stuck under one. Someone had walked up to it, turned it on and walked away while I was kicking a ball around the training room, and somehow it got under the machine. The whole thing just went CRASH – it was bad…
What's the worst type of gym behaviour?
Honestly I don't really go to the public gym that much, because we have our own weight room and facilities. But not cleaning up the sweat after you've been on a machine is definitely a big faux pas. I'll have a word with some of my team-mates if that happens, absolutely!
What do you think about "leg day"?
It's great. It's the most important day. Four days a week we do legs.
How do you prepare yourself for the biggest of big hits?
Getting hit is a big part of football, and so a big part of my training is needing to make sure I'm strong enough and flexible enough to withstand those hits. Still, I've had some bad injuries in my career – I messed my kidney up last year and ended up missing some games, that was probably the worst one.
Andrew Luck's Indianapolis Colts take on the Jacksonville Jaguars this Sunday at Wembley Stadium in the first International Series Game of 2016. Watch live from 2pm on BBC2.
Sign up for workout ideas, training advice, reviews of the latest gear and more.
Gary Ogden wrote for the print edition of Coach between 2015 and 2016, writing features, interviewing celebrities and covering entertainment. He has also written for ShortList.