Osi Umenyiora: "I Studied My Opponents to Give Me an Edge"
The London-born former NFL star on his path to gridiron glory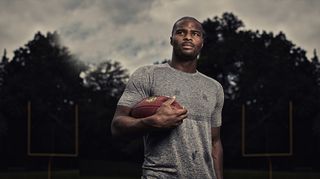 (Image credit: Unknown)
Were you born a great sportsman?
I come from a Nigerian background, and we got pushed towards education rather sport. That's why my parents sent me to school in the States when I was only 14, to get academic qualifications. I'd watched Saved By The Bell and The Fresh Prince, so I thought I knew the culture, but they certainly didn't give me a butler when I arrived. I went straight to the projects in Auburn, Alabama, the worst part of town. It was very different to what I was accustomed to seeing on TV.
Who helped you get into American football?
My older brother and his friends would come over to the house and we'd play sports. They could see I was a really good athlete, so they suggested I tried playing football. He had two friends called Blair Liggins and Shawn Marcel, and those guys taught me everything about the sport. I owe them a tremendous amount of my success.
Is high school football as intense as it is in [US show] Friday Night Lights?
Definitely, from the peewee level up, which is five or six years old, these people are watched and pampered, and talked about. Football is everything in a small town. As soon as I turned up to practice, the coaches told me what position I would be. Maybe I could have been a brilliant quarterback but they said, "You're real big, you're a D (defensive) lineman and that's it."
When did you first think, "I can get paid to do this"?
My senior season at Troy University. I hadn't even thought about the NFL until then, because I was focused on my degree. But midway through that year, when I was playing well against top-level competition, I realised I had a chance.
Do you enjoy sacking the QB?
For me, a quarterback sack is a big play, but if I'm able to get the ball out of his hands and cause a fumble, then that becomes a game-changing play. When I would come round the edge, I would always target the ball rather than crush the QB. That was my whole thing, not trying to put him in hospital.
Which opponents did you respect the most?
There was one offensive lineman for Philadelphia, and every time he blocked me, he would mimic shooting me with a pump action shotgun afterwards. That really messed my head up, I couldn't concentrate for the whole game. But if I had to pick one player, it would be Walter Jones of the Seattle Seahawks. I played against him in 2005, and up until that point he hadn't given up a QB sack in three years. I ended up getting two against him and it was a huge deal, they talked about it on TV for three or four weeks. But when we played them again, he wiped the floor with me. I didn't get within 10 feet of the QB the whole game. That was the worst payback I ever got.
What was the secret of your success on the field of play?
Everyone in NFL is a good athlete, so I worked on the mental side to give me an edge. I studied video and read the stats on every opponent, looking for a 1% advantage.
What was your best moment?
When the clock ran down on Super Bowl XLII and we realised we (New York Giants) had just beaten the Patriots, an undefeated team. Forget humility and prayers to Jesus, the after party was just craziness! I didn't go to sleep that night.
What's the best thing about going to a live NFL game?
The atmosphere. You don't have anything like that over here. The cheerleaders, the fireworks, the BBQs in the car park… the NFL does a great job of making the fans feel they're part of the game.
You're a millionaire, you're married to a Miss Universe, but what's the best thing in your life?
I've got to say food. I spend most of my money in restaurants. I love Jamaican food, Nigerian food, I go the movies just for the popcorn not for the film. I used to spend money on cars and houses then I realised that's so unnecessary – you're trying to show you have money. When you really are rich, you don't need to show it.
Watch the LA Rams take on the New York Giants live at Twickenham Stadium on BBC2 from 2pm this Sunday, 23 October 2016.
Sign up for workout ideas, training advice, reviews of the latest gear and more.
Grub Smith contributed interviews and features to the print edition of Coach, which ran from 2015 to 2016.