The Best Ski Goggles Of 2019
Take to the slopes in the right eyewear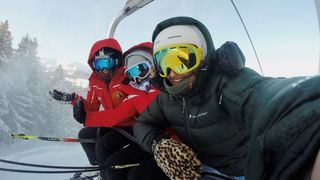 (Image credit: unknown)
Ski goggles are almost as essential a piece of kit as skis. Not only will they keep stray flecks of snow and grit out of your eyes, but they'll also protect you from harmful UV rays reflected by the snow. The thinner air at high altitude filters less UV light so more of it reaches your eyes and this, exacerbated by the glare from the surrounding snow, can have a detrimental effect on your eyesight. It's not just a case of a bit of squinting in the après-ski lodge – over time, UV light can do serious damage to your peepers.
Things are complicated somewhat by the fact that you need different levels of protection for different conditions, which is why we've got a buyer's guide to help you navigate this peculiar product category.
Lens category and VLT figures explained
You'll find that all ski goggles have a lens category, ranging from 1 to 4. This category, along with the Visible Light Transmission (VLT) percentage, will indicate how much light they keep out of your eyes. In a nutshell: the darkest lenses (category 4 and 10-30% VLT) are ideal for those blue sky days because they'll block out the most sunlight; on overcast days, you can pick up a category 1 pair with 50-70% VLT, which will let more light in.
Don't make the mistake of thinking you'll just get the lenses that offer the most protective lenses and call it a day. When it's overcast it'll become more difficult to identify lumps and bumps in the terrain as you ski. While beginners can probably get away with a middle rating, once you're off the beginner slopes it's worth getting a pair that have interchangeable lenses.
Types of lenses
Cylindrical lenses, which curve horizontally across your face but are flat vertically, are typically the cheapest type of lens, as well as the most flexible. They're ideal for simple lens changes.
Spherical lenses are more of a bubble shape: they're designed to curve vertically and horizontally to mimic the shape of your eye. These will offer you better peripheral vision and you won't encounter any blind spots or distortion, while their large surface area also makes them less prone to fogging up.
Polarised/mirrored lenses have a chemical coating to block out the glare from the snow. This makes them darker, which has benefits and downsides – on sunnier days they'll help your visibility and reduce eye fatigue, but on gloomier days you might find you can't see as much as you'd like.
Photochromic lenses have a special coating that, like varifocal spectacles, transition colours in a matter of second to suit light levels. As you might imagine, they're expensive, but they're a far more convenient alternative to constantly changing interchangeable lenses on days when the weather is fickle.
Sizing
If we have one essential tip, it's that you try the goggles on with your helmet; that way, you'll guarantee that they fit without feeling uncomfortable. Beware of buying oversized goggles just because of the edge-to-edge peripheral vision they offer, because they probably won't fit neatly with your helmet. Don't pick up a small pair either: you don't want to be stuck with a "gaper" – which is a gap between your goggles and helmet, and a huge faux pax among aficionados.
See related :
Cases
Make sure you always keep your ski goggles in their protective case when you're not using them – and not on the top of your head, as tempting as that is. Tucked inside their case, they're far less likely to get scratched or have their chemical coating damaged. And if your goggles don't come with a case? We recommend this case from Oakley, which will keep them safe and unscathed.
The Best Ski Goggles To Buy
The Best Rimless Ski Goggles: Oakley Flight Deck
Fun fact: these goggles were inspired by the edge-to-edge design of fighter pilot visors. Bug-eyed and super-sized, the Flight Decks will guarantee you peripheral vision with zero distortion. And despite the large size, the goggles are compatible with helmets.
Given the price, we would expect a spare lens to be included here, but sadly that's not the case. That said, you're still getting a lot of high-calibre tech for your money: the 11-20% VLT Torch Iridium lens uses Prizm technology polarisation, which delivers an excellent degree of image contrast and visual clarity that performs well in both bright and cloudy conditions. That top-notch vision will be guaranteed to be mist-free thanks to the Flight Deck's permanent F3 anti-fog coating.
Buy on Amazon | £130.06
The Best Photochromic Goggles: Julbo Aerospace
Julbo's Aerospace goggles are a great choice if you're looking for hi-tech, all-in-one pair. Their winning feature is surely the photochromic category 2 to 4 Zebra lens, which adapts to shifting light conditions in a matter of seconds to keep your visibility at the right levels for your environment. With these in place, you'll find every little detail looks super-crisp and focused, and with top-notch colour vibrancy too. The goggles are also available in other photochromic variations that include the Zebra Light, Snow Tiger and Chameleon, each suited for a particular type of terrain.
But what we really like is the Aerospace's SuperFlow ventilation system, which lets you slide the lens a good centimetre clear of the frame to increase airflow and avoid that dreaded fogging. If we have any criticism of these goggles, it's that the hinges can be tricky to pull out – especially if you're on the mountainside – but it's easy enough to snap the lens back into place.
Buy on Amazon | £138.59
The Best Goggles For Interchangeable Lenses: A-non M3 MFI
When it comes to quick-change lenses, you'll find few better than the Magna technology that these goggles use. It has magnets at nine connection points, meaning that you can click them in and out of their frames without fiddling with a single catch. (We tried them with gloves on and it's still easy.) The same system is used for the detachable face mask, so you can put that on and pull it off without serious hassle in the elements.
The Integral Clarity Technology will keep fog at bay, while the triple-density face foam will help you achieve a comfortable fit.
Buy on Amazon | £151.99
Best Ski Goggles For Kids: Bollé Volt
Unless your child has a preternatural talent for skiing, these Bollé Volt goggles will do the job just fine. They're aimed at age six and up and are helmet-compatible. The lenses are category 2 with a mirrored finish that keeps glare to a minimum, and they're made of anti-scratch Carbo-Glas that means they won't shatter if your little one does take a tumble. The dual density foam means they're strapped into place comfortably too. And they're excellent value.
Buy on Amazon | From £18.79
The Best Goggles For Wearing Over Glasses: Smith i/OX ChromaPop in Everyday ChromaPop
Less-than-perfect-sighted folks, don't despair – even without 20:20 vision you can still hit the pistes without the need for contact lenses. There are plenty of over-the-glasses goggles available on the market, but of all of them, our favourites are Smith's i/OX ChromaPop. Their large, rimless design frees up plenty of space for your specs, and gives you that extra bit of peripheral vision too. The spherical Carbonic-X lenses have a 5X anti-fog inner coating to stop them steaming up.
They're not cheap, but the features included means the price isn't unwarranted. These are interchangeable goggles which come with two lenses: Everyday ChromaPop and ChromaPop Storm Rose Flash, the latter for low-light conditions. They're both excellent at banishing the glare, and thanks to the ChromaPop polarisation, what you'll see is clear and vibrant.
Buy from Snow + Rock | £200
The Best Budget Goggles: Giro Roam
Two lenses for a bargain-basement price? They must be poor-quality, surely! Well, actually, no: it turns out the Roam goggles perform to a high standard and they even slip in a couple of features from Giro's premium line. They're perfectly suited for general use, and the two lenses means that you're set up for both bright and gloomy conditions. The swappable lens system isn't as slick as that of the Anon M3 – but there's a reason these are budget-priced goggles.
These goggles have the classic Giro look, but with the brand's new Expansion View tech thrown in. They might not be rimless, as with pricier goggles, but the compact frame keeps your field of vision nice and big, and we're fond of the over-the-glasses fit and unisex design as well. If you're looking for a pair of ski goggles that won't break the bank, these are the perfect choice.
Buy from Amazon | From £48.92
Sign up for workout ideas, training advice, reviews of the latest gear and more.