I Swam In The New Zoggs Predator Pro Wetsuit
The Aussie swimming brand has unveiled its first range of wetsuits in six years and I pulled on a model from the selection for triathletes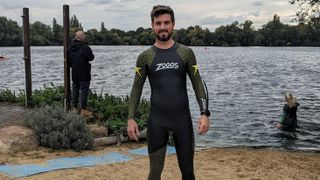 (Image credit: Zoggs)
Swimwear specialist Zoggs has announced a new range of wetsuits set to go on sale in January 2024.
There are 10 wetsuits in all. The Predator and Hypex wetsuits are aimed at triathletes and the Explorer is for open-water swimmers, with three different versions of each designed to meet the demands of beginner (Tour), enthusiast (Pro) and elite (Ultra) swimmers. The 10th wetsuit is the Scout, designed to be used for all open-water sports.
The Predator is built for those whose swimming technique means they could benefit from some extra buoyancy in the legs, while the Hypex's neutral design is aimed at triathletes who are strong swimmers and don't need any additional support to hold a streamlined, level position on the water's surface.
The Explorer prioritizes durability and the design adds bright colors to make open-water swimmers more visible.
I'm a cyclist and runner, but I also swim a couple of times a week so I can tackle triathlons. I decided the Predator Pro suited me best and got to try one at a Zoggs test event held at Shepperton Open Water Swim in Middlesex, England.
Zoggs Predator Pro Wetsuit: Materials
The Predator Pro is made entirely from Yamamoto #39—the second-best material in the neoprene specialist's line-up—to improve durability. Zoggs designer Marco Gnecco explained that differences in thicknesses at seams can create issues in any wetsuit and adding a difference in neoprene grades into the mix means issues can appear earlier.
The thickness of the neoprene is as follows: the torso is 4mm/3mm (front/back), the arms are 2mm and the legs range from 4mm (thighs and front of ankles) to 1.5mm (back of calves). In the lake's mild, late-summer temperature of around 20°C I felt warm and comfortable. I can imagine you'd only need to switch to a thermal wetsuit in the depths of winter.
Zoggs Predator Pro Wetsuit: Fit
A triathlon suit is only as good as its fit, and the Predator Pro was one of the most comfortable suits I've ever worn. At 5ft 11in (180cm) and a smidge under 155lb (70kg), I was given a medium to wear and it was a cinch to get on and—more importantly for the first transition of a race—off.
Compressive without being restrictive, it felt like a second skin in the water, and I was able to comfortably complete my full stroke.
A lower neckline seemed to minimize the irritation and chaffing I usually get on my neck, although I would need to test it for longer to be sure of that. The wetsuit also had clever ways of shortening the arms and legs to achieve a better fit—ideal if you wear a triathlon watch.
Zoggs Predator Pro Wetsuit: Performance
Testing was limited to a single loop of the 400m lake, but it was clear from my 10-minute dip that the Predator Pro lives up to its billing of a suit with extra buoyancy that helps triathletes achieve a hydrodynamic position. In the chest, the wetsuit's 5mm aerodome panels—where air bubbles are locked into the neoprene to add buoyancy—kept my upper body elevated making sighting (quick glances forward to navigate) easier. The suit's buoyancy meant my legs were also kept level with the water's surface—a position I struggle to maintain when training in skins or the pool. Even though the test was on the short side, the wetsuit's support left me feeling fresh and confident I could have swum another lap to two.
Sign up for workout ideas, training advice, reviews of the latest gear and more.
Charlie Allenby is a journalist with a passion for pedalling. He contributes features and buying advice about cycling, and is Coach's dedicated turbo trainer reviewer. He is also Coach's chief whey and casein protein powder tester, trying as many brands as possible.
Charlie's first book, Bike London, is out now. He has written for The Guardian, The Independent and BikeRadar, among others.