What to Pack and Where to Go for a Winter Weekend Break in Edinburgh
Matthew Pike of the Buckets & Spades blog on what to do in Scotland's capital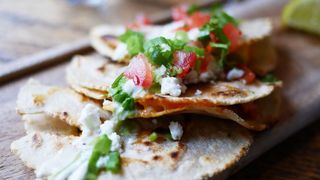 (Image credit: Unknown)
In This Series
What to Pack and Where to Go for a Winter Weekend Break in Edinburgh
There are plenty of places we'd love to visit in the summer, but there's only a handful of cities across the UK that we'd consider a trip to when the temperature drops below 5°C. Edinburgh is one of them. We'd even go so far to say that we enjoy a dram of whisky, big coats and those steep, steep steps even more in the winter.
To help convince you that Edinburgh is the place to be right now we've picked five destinations – leaving the castle aside for this trip – that showcase the best of the Scottish capital. But first, to make sure you're prepared, we've suggested the items to take with you.
What to Pack for Edinburgh
A Decent Winter Jacket: Penfield Hoosac Faux Fur Hooded Down Mountain Parka
As you'd imagine it gets pretty darn cold up there, and a padded jacket fits the bill perfectly. You'll probably be outside for the majority of the time – enjoying the scenery and that – so a padded number like this Penfield Hoosac Parka will see you through. It's an added bonus if you can find something similar which has water-resistant qualities, as you'll probably be needing it.
Lined Leather Gloves: Norse Projects X Hestra Ivar
For those of us with circulation troubles or prone to a little blue finger action, a visit Edinburgh without gloves is a seriously bad idea. Thin, cheap cotton gloves just won't hold up – you need something leather and lined to accompany the warm jacket you've packed. Try these Norse Projects X Hestra gloves.
Lightweight Holdall: Fjallraven Duffel No 5
If you've been to Edinburgh before, you'll know that the place has more steps and hills that you can shake a stick at. If you haven't, you've now been warned. It's the price you have to pay to get around one of our most beautiful cities – rich in history, culture and uncountable inclines. For that reason, we suggest ditching the wheelie case and taking a lightweight holdall to sling over your shoulder, like this Fjällrven duffel (the blue bag pictured). Leave space for some whisky on the way home.
Footwear: Nike Roshe Cortez
Some bid old sturdy boots may seem like the obvious choice here, but all the constant walking only racks up the chances of getting multiple blisters. A sensible compromise would be some proper comfy trainers. Don't even think about Converse – you really need something more durable, with a decent spongey sole, that can handle a few miles around the Royal Mile. The new Nike Roshe Cortez would certainly be a contender for our footwear of choice.
Sunglasses: Bantom Frameworks The Farrier
When you're in a city with so much open space, you'll need to protect your eyes when the bitter winter sun comes out. If you don't pack a pair you'll be regretting it and/or giving it the old modified sailor's salute all day. Since we'll be in Scotland, buy into a Scottish brand. Check out Bantom Frameworks' take on the classic Wayfarer.
Sign up for workout ideas, training advice, reviews of the latest gear and more.