The Best New Trainers For Men
Treat your feet to a refresh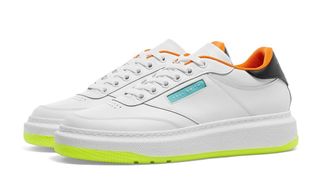 (Image credit: PR)
Remember when shopping for trainers was relatively simple? Just a couple of brands to choose between, a quick measure-up, a couple of notes exchanged hands and you were out the shop door with a fresh set of sneaks on your pegs. But now, things have changed. Not only do you often need a healthy bank balance to afford a new pair, but high-street shops, heritage designers and luxury fashion labels have joined the sportswear giants in wanting to encase your feet in extremely tempting offerings.
Now you've got an ocean of trainers to wade through before arriving at your dream pair. It's precisely why we've narrowed it down, riiight down to our ten favourite pairs that might convince you to do some damage to your available funds and slide your soles into a fresh set. From clean and crisp white staples to some truly bonkers but oh-so-tempting statement sneakers, take your pick.
---
Reebok Zig Kinetica Concept Type 1
Starting big and bold, this is the latest product of the longstanding relationship between Reebok and UK fashion authority Ian Paley. The combination of a suede and mesh upper adds to the deliciously freaky serving of outrageous trainer design.
---
The only sneaker on this list – and any other – that can call itself totally plastic-free and biodegradable. Manufacturing its shoes in Portugal using sustainable, organic materials and natural processes, this brand has already raked in a number of award nominations and its shoes dubbed "some of the most comfortable I have ever worn" in the Sunday Telegraph – even though it's only just promised to have pre-orders for premium trainers ready for December 2019. One to watch, without a doubt.
---
Vans Sid DX Anaheim Factory
Vans started in '66, meaning the hardest part of acquiring a new set is knowing exactly which of the hundreds of pairs, in multiple colours, from a half-century of designs, to choose. Here's what you do: you buy this pair from the Anaheim Factory collection, which tips a hat to the brand's Californian heritage.
---
Paul Smith Hackney Tennis
Sure, the price is pretty serious, but this Paul Smith eye-melter looks anything but. You'd need to have taken a 140mph overhead smash to the noggin to wear these chunky premium leather "tennis" shoes anywhere near a court, with that eccentric aesthetic far better suited to smart-casual party season. Partner the Hackney with dark blue tailored trousers to serve up a style ace.
---
The North Face Mountain II
Wearing comfortable trainers doesn't have to mean donning clumpy kicks that look like they've been prescribed by your GP. The North Face has thrown everything it knows about stability, cushioning and comfort into this lightweight trail- and town-ready sneak, and managed to make it look dead cool in the process.
---
Modern menswear commandments dictate that every man must own a pair of premium crisp white kicks and do their best to keep them clean. These are said kicks.
---
Hi-Tec has slammed the defibrillators on one of its greatest running shoes, the BW Infinity, shouted "CLEAR!" and resurrected it for the 2020s. Back in 1989 this road and trail specialist were created for an ultramarathon across the dusty plains of Death Valley's Badwater Basin, which means it's probably up to the task of carrying you down the high street for your Saturday morning coffee and croissant.
---
Timberland 2.0 Alpine Oxford
An alpine-inspired adventure-ready sneaker here, primed to tackle any mountain that lies on your horizon, be it Scafell Pike in the Lake District, or that towering inbox in your workplace.
---
Toms Waterproof Suede Arroyo
The do-good brand has graduated from simple (and somewhat flimsy) fabric footwear to serious pieces of kit like these everyday winners which boast a waterproof design, super comfy insoles and really rather tasty modern colour blocking. We can't think of a single shoe rack that these wouldn't improve.
---
We came for the Vibram MegaGrip outsole, the super-soft Fresh Foam midsole and the protective fit. We stayed for the outrageously cool colourway and modern silhouette.
Sign up for workout ideas, training advice, reviews of the latest gear and more.
Craft beer drinker, Devonian, fisherman and former content director of Coach online, Chris contributed style coverage and features between 2016 and 2019.