Daniel Sturridge on Jurgen Klopp: "His Swag's OK"
The Kanye of the northwest weighs in on his team-mates' style and reveals the secrets to smelling and looking good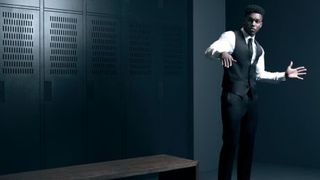 (Image credit: Unknown)
He might face the challenge of competing with Harry Kane and Jamie Vardy for a starting place for England at this summer's Euro championships, but in the style stakes Daniel Sturridge is first on the team sheet.
The 26-year-old Liverpool striker was ordained by the cultural-know-it-alls at Vice as the "Kanye West of the northwest" and the "only football hipster". You'll find him warming the benches at London Fashion Week, while visiting his Instagram account is like walking through the coolest of streetwear stores – one where Drake, Dizzee, Ghostface Killah and, er, Louis from 1D are hanging out by the till.
With Daniel doing the rounds to promote Hugo Boss's "Success Isn't Born, It's Made" campaign, Coach took the opportunity to grill the coolest man in the Premier League on his dating advice, and who's got serious "swag" in the Liverpool dressing room and who most definitely hasn't...
On fashion crimes at Liverpool FC
Simon Mignolet and Adam Bogdan need to step their game up bigtime. Baggy jeans and low-cut sneakers – that doesn't work! The jeans are going to drag on the floor and that's not going to be a good look. They're just [fashion] criminals, criminals every day, and it's not cool. They need to step their fashion swag up!
On players with style
There's a few in there. Martin Skrtel and Emre Can dress well, and Roberto Firmino puts himself together nicely – he's got his own swag going on.
On Jürgen Klopp
His swag's OK. It's individual and more relaxed – Converse with denim, loose-fit tee, baseball caps – it's a rock chic vibe.
On the one style essential all men need
To be swagged out you have to have a leather jacket. I can't just pick one item, though – you also need a great cut suit. It doesn't have to be expensive, but don't get it off the rack and forget about the tailor. If it's tailored well, you can make it look a million dollars.
On trainers with a suit
Generally they'd have to be low-top ones. For a first date, I'd say go with trainers as you don't want to go over dressed. And always smell good!
On his fragrance strategy
In the daytime I go for Boss Bottled Unlimited – it's got the pineapples and the mint in there. At night I use Boss Bottled – I feel like a grown man in that, when I've got my suit on or I'm swagged out in my jeans, leather jacket and a pair of boots. And I'm not talking football ones, I'm talking a pair of actual boots!
On style for a Tinder date
I've not used Tinder myself but I know about it – it's just not the right place for me! Your style is dependent on where you're going. If it's dinner at a nice restaurant, definitely pick up a tailored suit because women love a man in a suit.
On wearing sun cream to attract girls
We proceed to tell Daniel, perhaps unnecessarily, about a friend who puts on sun cream when going out in the evening, as he believes the smell reminds women of carefree holidays and puts them in a more relaxed mood.
That's something I've never heard before in my life but if it works for him, let him do his thing. I'm not going to discriminate against anyone trying something very different. I might have to try it myself one time.
On building self-confidence
Don't worry about what anybody else thinks – feel proud and feel passionate about whatever you're wearing, and whatever you smell like. And that should be Boss Bottled because, as a man – and I'm telling you from experience – it works! Just like your friend's sun cream.
On if success is born or made
Success is something that you work for – it's not born, it is made, in my opinion. You have to put the work in, and be passionate and dedicated to what you do in life or you don't get there.
On what drives him
It was always a dream for me to be a professional footballer. At 13, when my family moved out of Birmingham to a small town called Congleton, I realised that I had to do this for them as they'd made so many sacrifices. From that age on I knew this was my job, and I'd have to focus and be dedicated.
On being the Kanye West of the northwest
I wouldn't say I have the crazy bravado of Kanye, but in terms of the swagger and self-confidence, I think I can agree with that! [Laughs]
Daniel is the global ambassador for Boss Parfums "Success Isn't Born. It's Made" campaign, which celebrates the values of success. Boss Bottled Unlimited, from £45 for 50ml, buy on theperfumeshop.com
Interview has been condensed and edited for clarity
Sign up for workout ideas, training advice, reviews of the latest gear and more.
Joe Barnes was the editor of Men's Fitness and the Coach website from 2015 to 2016.